Posted on
Mon, Oct 31, 2011 : 5:12 p.m.
Michigan's Ryan Van Bergen enjoys the 'feng shui' of Iowa's pink locker rooms (seriously)
By Kyle Meinke
Ryan Van Bergen made Michigan football history Monday.
The feat couldn't be verified, as the Wolverines, for some reason, don't keep statistics for references to "feng shui" in a news conference, but Van Bergen's drop — in regards to the famed pink visitor's locker room at Iowa's Kinnick Stadium — surely is a first.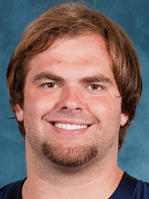 "I love the pink locker room," said the senior defensive tackle, who has been a media-favorite this year. "I've never had an issue with the pink locker room. I think it gives it nice decor, the feng shui really feels good before the game. It warms you up. It's very welcoming.
"I think more teams should go with pink. I have no problem with it. I think it's a great touch. It's better than the off-white jail-cell look. So, I say paint 'em up."
Does Van Bergen even know what feng shui is?
"It's a word," he replied.
No. 13 Michigan (7-1, 3-1) hits the road to face Iowa at noon Saturday on ESPN. The Wolverines haven't won at Kinnick Stadium since a 23-20 overtime thriller in 2005, and the Hawkeyes (5-3, 2-2) are unbeaten there this year.
The tradition of the pink locker room was started by former Iowa coach Hayden Fry, a psychology major who said pink had a calming and passive effect on people. It's drawn criticism over the years — including from former Michigan coach Bo Schembechler — but has persevered.
The only time Van Bergen has played in Iowa City, quarterback Denard Robinson threw a pick in the final minute to end a comeback bid in a 30-28 loss in 2009.
At least he had a pink locker room to soothe him afterward.
Kyle Meinke covers Michigan football for AnnArbor.com. He can be reached at 734-623-2588, by email at kylemeinke@annarbor.com and followed on Twitter @kmeinke.