Posted on
Thu, Aug 16, 2012 : 9 a.m.
Michigan's Stephen Hopkins, overweight in spring, rebuilds body to become versatile fullback
By Kyle Meinke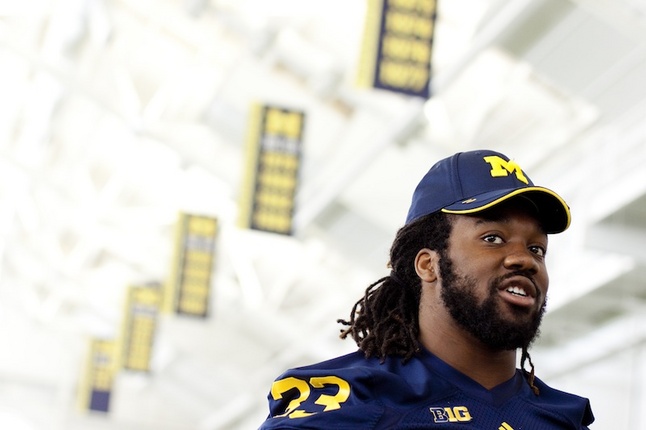 Jeffrey Smith | AnnArbor.com
Stephen Hopkins
wanted 1,000-yards seasons. Wanted touchdowns. Came all the way from Texas to be the
Michigan football
team's next great tailback.
Now a junior, he's moved to fullback, where his primary job is to roll up his sleeves, lower his shoulder -- and levy a block so someone else can rack up those yards.
He's loving it.
And that makes him a unique weapon for the Wolverines.
"The big thing about Stephen is he's bought into the position hook, line and sinker," offensive coordinator Al Borges said. "That's really what it's about with the fullback, truth be told, when you've played tailback.
"If you'll jump in with both feet, as he has, he's progressively improved his game."
Most fullbacks are stodgy-types, with broad shoulders for shielding quarterbacks or plowing the way for tailbacks. And that's what makes Hopkins dangerous.
He's so much more than that.
As a former tailback, Hopkins is faster and far more nimble than typical fullbacks. He also has decent hands, which could make him a factor in the passing game.
"The quarterback is looking at me more often," Hopkins said. "I'm not really sure because it's the beginning of camp, but I think I'm going to be a factor in the passing game."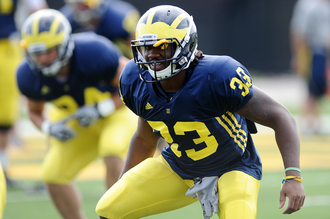 Melanie Maxwell | AnnArbor.com
Borges, entering his 25th year as an offensive coordinator, says Hopkins is as versatile as any fullback he's coached.
"He has that kind of skill level -- he can do pretty much anything," Borges said. "He's a tailback, so he possesses some tailback skills. If you get a guy who has those kinds of skills at fullback, and will buy into playing fullback, you've got the consummate player there.
"He hasn't arrived, by any means. But his improvement has been significant."
Hopkins initially made the switch from tailback to fullback in the middle of last season, after then-starter John McColgan went down with an injury. Fullbacks weren't used under former coach Rich Rodriguez, so there were no scholarship players at the position.
Hopkins was an instant hit at fullback and, paired with the emergence of Fitz Toussaint at tailback, he realized his greatest opportunity to contribute might come at that position.
He requested to make the move full time, and coaches obliged.
Hopkins, though, showed up to spring camp "overweight," according to coach Brady Hoke. Hopkins began last season listed at 228 pounds, but said he finished it at around 238 pounds. Spring weights weren't released.
He says he now weighs 240 pounds after breaking down his body, then rebuilding it.
"This summer was about getting a lot stronger -- getting in shape -- and I think that's what I did," Hopkins said. "I lost weight at the beginning of the summer, then built back up, muscle-wise."
Hopkins feeling increasingly comfortable at fullback, now that he's in the proper shape and has had an offseason to soak in the position.
"Last fall camp, I didn't take any reps at fullback, so it was all new to me, learning during the season," he said. "I had all offseason to get my body right to play fullback, so I think I'm going to be ready."
Kyle Meinke covers Michigan football for AnnArbor.com. He can be reached at 734-623-2588, by email at kylemeinke@annarbor.com and followed on Twitter @kmeinke.