Posted on
Wed, Oct 26, 2011 : 3:18 p.m.
Purdue is running well, has shown it can slow dual-threat quarterbacks
By Kyle Meinke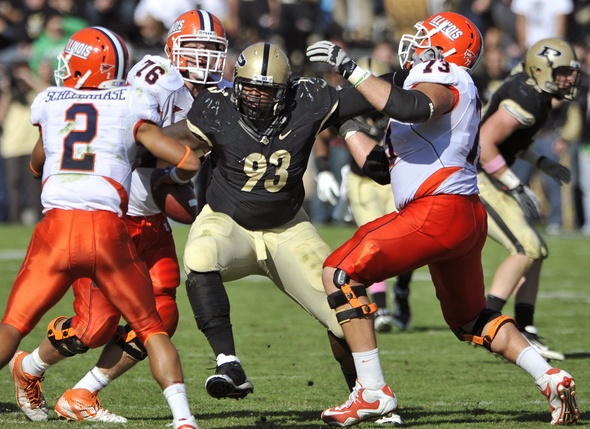 AP Photo
After
Purdue
lost to
Rice
and was blown out by
Notre Dame
, it seemed the
Michigan football
team might have little trouble disposing of the Boilermakers.
That no longer appears to be the case.
Purdue has turned things around the past three weeks by blowing out Minnesota, nearly upsetting Penn State in Happy Valley, then topping No. 23 Illinois last week.
How have they done it?
It starts with an improved defense, especially against the pass, says beat writer Mike Carmin of the Lafayette (Ind.) Journal and Courier. Most impressively, the Boilermakers shackled Illinois dual-threat quarterback Nathan Scheelhaase last week.
How did they do it, and could they do it again to Michigan dual-threat quarterback Denard Robinson? We posed these questions and a couple others to Carmin in this week's beat writer breakdown.
Purdue is second in the Leaders Division after upsetting No. 23 Illinois last week. It's also the same team that lost to Rice, was blown out by Notre Dame and beat Middle Tennessee State by three points early in the season. What's behind the turnaround?
THURSDAY LIVE CHAT
Come back to AnnArbor.com at noon Thursday for a live chat with Kyle Meinke. He'll discuss news that emerged during Michigan's off week and preview the game against Purdue on Saturday.
Mike Carmin:
Improved play by the defense. Purdue struggled to defend the pass, especially against spread teams, early in the season. Plus, the Boilermakers have gone to a simple approach on defense. At the start of the season, they were trying to account for every situation, but overloaded the players. They've reduced the number of packages. The offense has been good enough and they've kept the turnovers low. It's all relative to who you're playing. The first two Big Ten opponents -- Minnesota and Penn State -- don't offer a lot of firepower on offense. Although Illinois was a step up, the offense goes through receiver
A.J. Jenkins
. Purdue did a good job of keeping Jenkins from producing big plays.
Caleb TerBush seems to have taken over the reigns at quarterback. What's he like, and the offense in which he operates?
MC: Laid back, but TerBush has taken charge. Made his first college start in the opener and has held onto the spot ever since. Was shaky in the loss to Notre Dame, but has bounced back in Big Ten play. Played his best half of the season against Illinois, helping the Boilermakers build a 21-0 lead. The key for Purdue is spreading the ball around and keeping the pressure off TerBush. In the first half against Illinois, the Boilermakers had eight different players run the ball and eight different players catch at least one pass. TerBush is going through his progressions quickly and finding the right one most of the time. The offensive line is protecting better and TerBush is making sure they're in the right situations.
The Boilermakers had success slowing Illinois dual-threat quarterback Nathan Scheelhaase last week. What did they do well, and do you expect them to do something similar against Denard Robinson this week?
MC: They kept Scheelhaase from running effectively and not letting him outside the pocket. For the first time this year, Purdue's defensive front came with a lot of pressure. Defensive tackle Kawann Short had his best game and the defensive ends -- Gerald Gooden and Ryan Russell -- contained the edge and forced Sheelhaase to get the rid of the ball before he was ready. The Boilermakers didn't have to blitz a lot because of the front four. Robinson presents a different challenge because he's better than Scheelhaase. The front four will have to control the line of scrimmage like they did last week for the Boilermakers to have a chance.
Where on the field will be Michigan's biggest disadvantage?
MC: Stopping Purdue's running game. This is the Boilermakers' strength right now. The Wolverines have allowed two teams to rush for more than 200 yards and that's the magic number for Purdue. Coach Danny Hope's teams are 9-1 in his three seasons when rushing for more than 200 yards, including three times this season.
Purdue's built some nice momentum the past three weeks with a pair of wins and a near-win in Happy Valley. The Boilermakers keep it going against Michigan if ...
MC: They run the ball effectively, handle the road environment like they did at Penn State and keep Michigan's big plays to minimum. Purdue won't be able to win a shoot out.
Mike Carmin's prediction: Probably a closer game than most expect, but the Boilermakers' defense has made tremendous strides since early in the season and they should keep it close. But the Wolverines have more weapons than any other team Purdue has faced this season, plus they're coming off a bye week. Michigan 27, Purdue 20.
Mike Carmin covers Purdue for the Lafayette (Ind.) Journal and Courier. You can follow him on Twitter @carminjc.
Kyle Meinke covers Michigan football for AnnArbor.com. He can be reached at 734-623-2588, by email at kylemeinke@annarbor.com and followed on Twitter @kmeinke.