Posted on
Mon, Sep 12, 2011 : 3:21 p.m.
Mike Hart ready to return to Michigan Stadium as an Eastern Michigan assistant coach
By Nick Baumgardner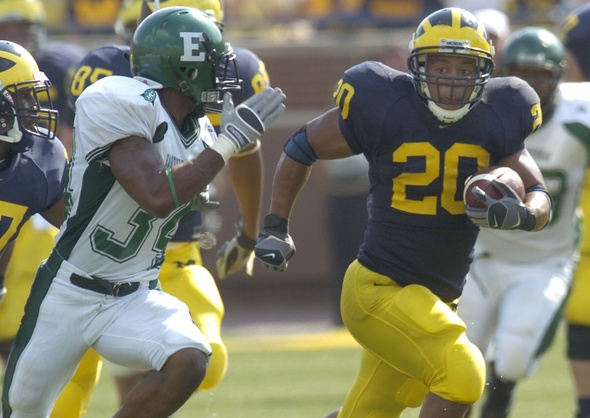 File photo
Mike Hart's
mindset hasn't changed.
He's entering Michigan Stadium on Saturday with the same attitude he had during his historic four-year college career. He's got a job to do.
The only difference is, the record-setting former Michigan running back will be doing that job as a member of the road team.

Hart, who rushed for a Michigan football-record 5,040 career yards from 2004-07, will return to the place where he "grew up" as an opponent for the first time Saturday. Not as a player, but as an offensive quality control assistant at Eastern Michigan.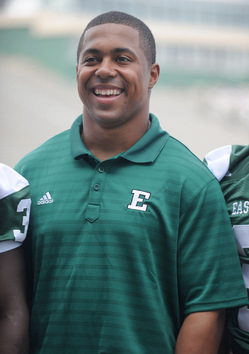 Angela J. Cesere | AnnArbor.com
The last time Hart and the Eastern Michigan football team were at Michigan Stadium together, Hart broke Anthony Thomas' all-time rushing mark of 4,472 yards. The then-senior running back's 215 rushing yards and three touchdowns led the Wolverines to a 33-22 win over the Eagles in 2007. (Hart didn't play in the teams' 2005 matchup because of an injury.)
On Saturday, he'll wear EMU green and white into the Big House -- and he couldn't seem happier about it.
"I'm committed to this team and I'm glad I'm here. I want to be here," said Hart, who was hired by EMU coach Ron English at the start of fall camp. "This is who I am, I am Eastern Michigan. I coach at Eastern Michigan. I want Eastern Michigan to win every game.
"I don't cheer for Michigan ever anymore. I watch (Michigan play) and I watch it as a coach."
Not only is he happy to be at EMU, he's also thrilled to be in the coaching ranks.
Hart played three injury-plagued NFL seasons in Indianapolis -- gaining 264 rushing yards and two touchdowns in that time -- before the Colts made him an unrestricted free agent in January. He spent time working out, expecting to be signed somewhere else before the start of the 2011 season.
That didn't happen, but Hart wasn't overly concerned because he said his pro career got to a point where he saw football solely as a job.
And a job he wasn't fond of.
"It was real business-like, I enjoyed it when I played but I didn't look forward to going to work every day," he said. "And I never wanted to look at football like that. I was to a point where I was like 'I don't even know if I want to coach anymore.' That's when I knew it was time for me to get away (from the NFL).
"Not everybody likes their job, but I want to love my job. I love my job now and I never want to do something where I come in every day and not want to be there, and that's what (the NFL) was turning into."
At EMU, Hart's role has him in the press box on game days, breaking down film with the coaching staff during the week and learning how to be a college football coach.
He says he works up to 15 hours a day in the film room and on the practice field, and is soaking up any knowledge he can get -- not just on offense, either.
"Last week we put Mike on defense," English said Monday. "Our (defensive graduate assistant) had some illness, so he was on defense. And he went up there and did a fantastic job.
"He did what I expected him to do, and I expect a lot from Mike."
English added that Hart also provides value to the program as a former player that had success at a high level, meaning he has the ability to communicate certain parts of the game to players that other coaches might not be able to do.
"Former players can say things to a player that's a little bit different to a coach saying it to a player," English said. "Them knowing that Mike's true talents, if you will, weren't necessarily physical, but more mental, emotional and intelligent -- and that helps."
Hart says he's thankful to be working alongside English, and happy to get a start at Eastern, the same place his college coach, Lloyd Carr, began his college coaching career.
He doesn't even mind wearing green and white.
"These are my high school colors," he smiled. "I like these colors, I think I look good in these colors."
At peace with his decision to end his playing career and excited to begin the next phase of his life, Mike Hart's ready to make his return to Michigan Stadium.
Asked if he was ready to make any guarantees for Saturday -- as he did prior to a Michigan win over Notre Dame in 2007 -- Hart declined.
He's a coach now. Both in look and in sound.
"I don't have any predictions," Hart laughed. "We'll be there on Saturday to play a game."
Nick Baumgardner covers Michigan sports for AnnArbor.com. He can be reached at 734-623-2514, by email at nickbaumgardner@annarbor.com and followed on Twitter @nickbaumgardner.