Updated:

Minnesota coach Jerry Kill back at practice, plans to be at Michigan Stadium Saturday

Posted on Wed, Sep 28, 2011 : 5:15 p.m.
Ailing Minnesota football coach Jerry Kill has returned to practice and says he plans to be at Michigan Stadium on Saturday, The Associated Press reported.
The Minneapolis Star Tribune first reported that Kill was back on the practice field Wednesday, just three days after checking back into the hospital to treat a recurring issue with seizures.
Minnesota will travel to Michigan on Saturday (noon, BTN) to battle for the Little Brown Jug for the first time since 2008.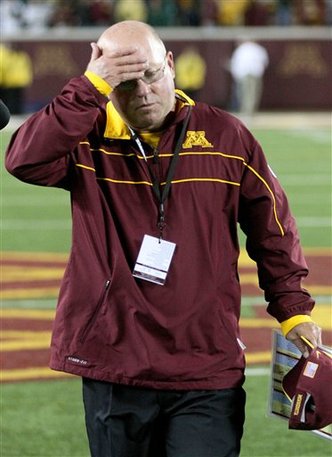 AP Photo
Kill, a former Saginaw Valley State University head coach, reportedly gathered the Gophers together for an on-field team meeting during the squad's afternoon workout.
After suffering a seizure during Minnesota's home opener earlier this season against New Mexico, Kill checked himself back into the hospital Sunday following another seizure episode.
He says that he has suffered multiple seizures in the last few weeks, including the one on Sunday that put him back in the hospital. But he insists that the condition is not life-threatening and that he will continue to coach while dealing with it.
With Kill away, defensive coordinator Tracy Claeys and offensive coordinator Matt Limegrover split the duties of running practice.
Claeys said Tuesday that the team would prepare for Michigan as if Kill wouldn't be there, even though they fully expected him to be.
"We've always prepared in a way that he won't be there, but I fully expect he will," Claeys said Tuesday on the Big Ten's weekly coaches teleconference. "He's never missed one. But we'll prepare like he won't be there, and go from there. That's a lot better than the alternative."