Posted on
Sat, Sep 3, 2011 : 9:09 p.m.
Some fans upset after being asked to leave Michigan Stadium, others understand
By Pete Cunningham
Thunder echoed down Main Street and winds whipped rain from east to west across downtown Ann Arbor when a Michigan football fan sprinted to a restaurant overhang to hide from the weather.
Recently evacuated from Michigan Stadium after the Wolverines' weather-shortened 34-10 win over Western Michigan, the fan -- who asked not to be identified -- was soaked from head to toe and none-to-pleased to have been kicked out into the elements.
He was especially upset that he wasn't allowed into the stadium bowl to retrieve his rain coat. He was in the concourse when the stands were cleared after a second severe weather delay.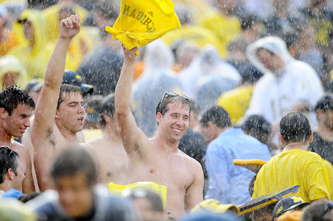 Melanie Maxwell | AnnArbor.com
"It's a terrible downpour right now and they're kicking us out, what's that about," said
Sean Walton
, from Dayton, Ohio. "We have no shelter, no transportation."
Others praised the athletic department's decision, saying it was made with safety in mind. Terry Price of Grand Rapids, attending her first Michigan game with her husband and four friends, was happy with her day.
"We had a great experience in terms of it being our first time coming, they dominated," said Price "Missing only 20 minutes of this game is worth it for safety because they did well and now we can be safe."
Fans said the communication was confusing. While some event staff was aggressively ushering people from the concourse and telling them to leave the stadium immediately, others were telling people it was alright to stay.
Three event staff members asked if people were being forced to leave the stadium gave three different answers. Fan Josh Pomeroy couldn't get a straight answer as to whether the game had even been called.
"I asked a security guard and he said unconfirmed but confirmed, so whatever that means," said Pomeroy. "They're just looking out for our safety
"I think there needs to be some work done on an evacuation plan," said Keith Patrick, from Cincinnati, Ohio. "Hopefully there's never a more serious incident in how they evacuate because the plan right now, I don't think would work."
Dave Dehan, who came from the Chicago area, was simply disappointed not to see an entire game.
"I guess with the lightning, it's good for our safety," Dehan said. "But I'm kind of disappointed that I didn't get to see a whole game."
Contact Pete Cunningham at petercunningham@annarbor.com. Follow him on Twitter @petcunningham.