Posted on
Mon, Apr 19, 2010 : 3:11 p.m.
More on Denard Robinson, Tate Forcier and Michigan's quarterback competition
By Dave Birkett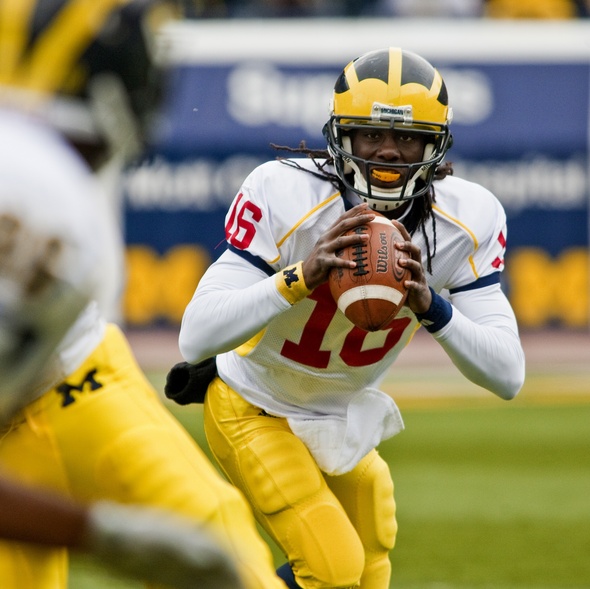 AP photo
Denard Robinson proved to be a legitimate contender for Michigan's starting quarterback job with 15 strong practices capped by an impressive performance in last week's spring game.
Michigan coach Rich Rodriguez declined to make either Robinson or incumbent starter Tate Forcier available to the media all spring, but several teammates talked about the quarterback battle, where each has improved and what the competition (with true freshman Devin Gardner a strong No. 3) means for the Wolverines come fall.
"They obviously all bring some things to the table that are all worthwhile because they're running with the ones and twos, respectively," linebacker Obi Ezeh said. "I think Devin came in and did a really good job for a freshman, just being able to come in straight out of high school and just pick up as much stuff as he's been able to pick up. And Tate and Denard are just battling it out. Good luck to each of them, but obviously with Denard, you can never quite get your hands around him, and Tate's got a couple ways he can beat you, too. He can beat you with his arm. He's shiftier than people think he is, too."
Cornerback Troy Woolfolk said Robinson's biggest improvements have been in decision making and accuracy. Robinson was erratic as a backup last year, completing just 14 of 31 passes with four interceptions.
"Last year, he kind of made some bad decisions with some passes that he knew he couldn't get," Woolfolk said. "He just tried to force it in there. That's one thing, he stopped forcing it in and look for something else to throw it to. And I'm really proud with that because he's looking so much better now."
How has Forcier changed after starting all 12 games last year as a true freshman?
"I wouldn't say he's changed as much, not saying that's a bad thing because he was pretty good, but he's just sort of perfected his old ways is what he's doing now," Woolfolk said. "He's still scrambling and keeping his head on a swivel when he's running. He's not so much of a scrambling quarterback, but he can be if he's forced to. But he tries to look for the pass before."
Receiver Roy Roundtree said Robinson throws a more catachable ball now than he did a year ago.
"It's not as hard," Roundtree said. "Last year, coming in as a freshman, he really wasn't used to throwing the ball. He was throwing it very hard last year. Now. this year it's like, OK, easy touch so it's easy for us to catch the ball."
Robinson played mostly with the first-team offense against the second-team defense in Michigan's spring game - Forcier played with the second-team offense against the No. 1 defense - but Rodriguez said he doesn't expect to name a starter until late in fall camp.
Ezeh said not having a clear-cut starter is fine by players and won't lead to divisiveness in the locker room.
"I know Coach Rod just loves promoting competition and I'm sure he'd take it all the way to the day before our first game before announcing the starters if he could," Ezeh said. "I think that's what it is, it's just guys - you come out every day and know you got to work your hardest in order to earn what you get."
Dave Birkett covers University of Michigan football for AnnArbor.com. He can be reached by phone at 734-623-2552 or by e-mail at davidbirkett@annarbor.com. Follow him on Twitter @davebirkett.