Posted on
Wed, Nov 3, 2010 : 12:30 p.m.
Nathan Scheelhaase makes a name for himself as Illinois' new playmaking quarterback
By Jeff Arnold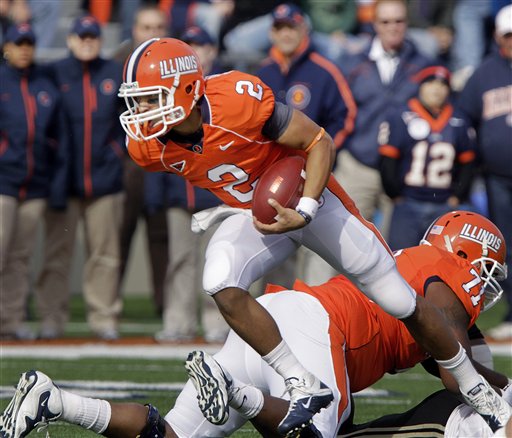 Associated Press
Nathan Scheelhaase doesn't aim to be the next Juice Williams. The Illinois football coaches aren't looking for that, either.
Williams finished his career at Illinois last season with 8,037 passing yards and 2,557 rushing yards. Scheelhaase, a 6-foot-3, 195-pound redshirt freshman, is eight games into his first year as a starting Big Ten quarterback. He is thriving in new offensive coordinator Paul Petrino's pro-style offense that's similar to the one Scheelhaase ran in high school.
Scheelhaase has completed 61 percent of his passes (102-for-166, 10 touchdowns, seven interceptions) and is Illinois' second-leading rusher with 538 yards.
Last week against Purdue, Scheelhaase missed on just four of his 20 passes, throwing for 195 yards and four touchdowns while covering another 118 yards on the ground in a 44-10 victory. The effort earned Scheelhaase the Big Ten's Offensive Player of the Week and Freshman of the Week honors.
"Things have been clicking more and more as the season has gone on, and I think that's something that's natural for any first-year quarterback," Scheelhaase said in a phone interview Tuesday. "(The more he plays) The more comfortable you're going to feel going out there."
In eight starts, Scheelhaase has faced eight different defensive schemes. When Illinois faces Michigan (5-3, 1-3 Big Ten) on Saturday (noon, ESPN), he will take his shot at a much-maligned Wolverines unit that struggled another young quarterback - Penn State's Matt McGloin - in a 41-31 loss last week.
Scheelhaase works within an Illinois offense that has had opposing defenses guessing all season. The Illini have cracked the 40-point barrier in each of the last two wins, moving Illinois to within a game of bowl eligibility at 5-3 overall, 3-2 in the Big Ten.
In last week's win over Purdue, each of Scheelhaase's four touchdown passes went to different receivers.
"The thing I like about this offense is that it has a lot of variety and it keeps the defense guessing, it keeps them on their toes," Scheelhaase said. "We change a lot of things week to week, but we also have our base stuff that we feel will work against any defense we play.
"If you're a quarterback that doesn't mind thinking, doesn't mind doing a lot of things, it definitely works to your advantage."
Scheelhaase enjoys planning for games. Going back to his days when he used to watch video of his Pop Warner games with his father - former Iowa defensive back Nate Creer - Scheelhaase's ability to make changes week to week has played into his development.
When Petrino joined the Illini staff, he sat Scheelhaase down, providing his quarterback with visual evidence from his days at Arkansas and Louisville of how his offensive scheme looks when properly executed.
Over the past two months, Scheelhaase has blended his own playmaking ability with what he's learned under Petrino, helping turn an Illinois team around that wasn't expected to do much under the first-year quarterback.
He has proven impressive every step of the way.
"It's not only his athletic ability, because he can tuck it and run, but he makes great decisions," Michigan coach Rich Rodriguez said Tuesday. "You see him making audibles and checks and getting them in certain plays. He's doing a tremendous job for them."
Which takes us back to the comparisons. On Saturday, Scheelhaase won't allow the pressure of going against Michigan quarterback Denard Robinson to change his approach.
While Scheelhaase appreciates the play-making ability of a fellow versatile playmaker, he said he can't let Robinson's big-play potential concern him.
"Obviously, we know their offense has done some good things and Denard Robinson has really been able to get that offense going," Scheelhaase said. "But if we focus on what we need to do offensively, we'll be all right without worrying about what they're doing."
Jeff Arnold covers sports for AnnArbor.com and can be reached at (734) 623-2554 or by e-mail at jeffarnold@annarbor.com. Follow him on Twitter @jeffreyparnold.