Posted on
Tue, Feb 23, 2010 : 6:28 p.m.
NCAA: Michigan football coach Rich Rodriguez didn't do enough to monitor staff
By Dave Birkett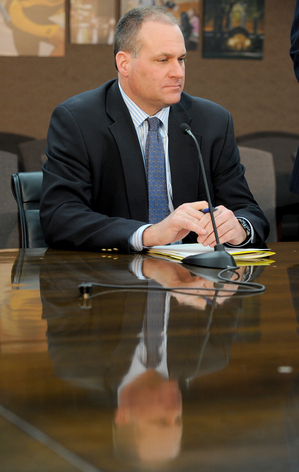 Michigan's storied football program faces possible sanctions after an NCAA investigation revealed five potential major rules violations concerning in- and out-of-season practice time.
The most damning accusation suggests Michigan coach Rich Rodriguez "failed to promote an atmosphere of compliance within the football program and failed to adequately monitor" his quality-control staff.
The athletic department also was charged with failing "to adequately monitor" the football program, according to the Notice of Allegations received Monday.
The university has 90 days to respond and will appear before the NCAA Committee on Infractions Aug. 13-14 in Seattle.
Incoming athletic director Dave Brandon said at a press conference Tuesday the university will compare its internal investigation to the NCAA findings and could self-impose penalties.
Brandon declined to detail what Michigan's investigation revealed, but said nothing in the NCAA report surprised him. He also said Rodriguez will return for his third season as head coach.
"You can all draw your own conclusions, (but) I think what you'll find is that there are not situations that jump out at you where there was anybody that was not trying to do their job, that was purposefully, maliciously either falsifying documents or misrepresenting the facts," Brandon said. "My read of the situation is we had a breakdown internally in communication in some of our policies and procedures that were not followed as carefully as they should be and that led us to where we are today more than any one individual either being guilty of incompetence or any malicious behavior."
Along with the allegations against Rodriguez and the athletic department, the NCAA investigation found that:
• Members of Michigan's quality-control staff "regularly monitored" voluntary winter and summer workouts and "regularly assisted" with on- and off-field coaching duties against NCAA rules.
• Football players were required to participate in more than the maximum allowed practice hours by anywhere from 20 minutes to two hours a week.
• Graduate assistant coach Alex Herron provided "false and misleading information" to NCAA enforcement staff about whether he monitored summer workouts he was not supposed to attend.
Most of the allegations took place during the 2008 and 2009 off-seasons, before an audit last May found the football program did not file forms detailing how many hours players spent on Countable Athletically Related Activities per week.
Student-athletes are allowed eight supervised CARA hours per week out of season and 20 hours per week in season, with a maximum of four hours per day.
Two allegations involve exceeding in-season practice time, including one last September, after the NCAA began its investigation. According to the notice, players "were required to participate in as many as 4 ½ hours" per day on Sept. 7, 14, 21 and 28 - the Mondays after Michigan's first four games.
The Wolverines started 4-0 last season, but lost seven of their final eight games and missed a bowl for the second straight year.
Brandon said "a lack of clarity around whether time spent in stretching and warm-up activities were countable minutes" is one reason for the NCAA findings. Still, he said the allegations are serious.
"We don't trivialize anything," he said. "We don't like being here today, we don't like getting notice of allegations from the NCAA in any form, in any way, and we're going to fix it."
According to the notice, Michigan's compliance department expressed concern "about the duties and activities" of the program's five quality-control assistants "shortly after" Rodriguez was hired. Athletic administrators with responsibilities to the football program failed to provide the necessary information, and that "collective failure partly resulted in the violations."
Quality control assistants help regular staff assistants with administrative duties such as cutting up film and gameplan prep work. They are not allowed to work directly with players.
"It's my job as a leader to make sure that our guys not only know what the rules are but what the possible interpretations are," Rodriguez said. "And sometimes when you don't communicate, or when you communicate, that's not always coming across as the same. We didn't have any issues in the past, but that's not to excuse us for if we misinterpreted the rules. That's still on us and it's still on my staff."
Six quality-control assistants were listed in the notice of allegations as having engaged in on- and off-field coaching activities, including Adam Braithwaite, who was promoted to outside linebackers/safeties coach earlier this month.
During the last two years, the NCAA alleged that Michigan's quality-control assistants "regularly monitored and conducted skill-development activities" during voluntary winter and summer workouts; "regularly" assisted with warm-up activities during spring and fall practice; "sometimes" watched game and practice film with players; and "sometimes attended meetings involving coaching activities" according to the allegations.
One graduate assistant football coach, one student assistant coach and five quality control assistants also "regularly" monitored voluntary 7-on-7 practices according to the report, and Michigan's strength and conditioning staff improperly disciplined players for missing summer classes. Brandon said the special conditioning drills players were required to do are allowed during the season.
Herron, the graduate assistant accused of lying to NCAA investigators, declined comment when approached outside his Ann Arbor apartment. According to the notice of allegations, he admitted to being at the beginning of some off-season workouts, but denied attending 7-on-7 drills "when, in fact, he was sometimes present for and involved in such activities."
Brandon declined to say what punishment Herron and others will face, but said the university already has changed some of its policies to ensure violations don't happen again.
He also said Michigan could be subject to the NCAA's repeat violator rule, and therefore more severe penalties, because these allegations occurred within five years of sanctions against its basketball program, but hopes that isn't the case.
"We clearly made mistakes," Brandon said. "And we have already taken action to prevent any of those mistakes from being repeated."
Dave Birkett covers University of Michigan football for AnnArbor.com. He can be reached by phone at 734-623-2552 or by e-mail at davidbirkett@annarbor.com. Follow him on Twitter @davebirkett.
AnnArbor.com sports reporter Jeff Arnold contributed to this report.