Posted on
Fri, Aug 6, 2010 : 3:12 p.m.
NCAA attorney: Avoiding show-cause order a must for Michigan, Rodriguez
By Dave Birkett
Football coach Rich Rodriguez will only answer questions about his time at Michigan when he goes in front of the NCAA Infractions Committee in Seattle next week, but that doesn't mean committee members will ignore the latest accusations against him.
"They're all human beings," said Michael Buckner, a Florida attorney who represents coaches and schools in NCAA infractions hearings.
Rodriguez was formally accused Thursday of committing major NCAA rules violations during his time at West Virginia. In February, the NCAA alleged that he committed similar violations at Michigan.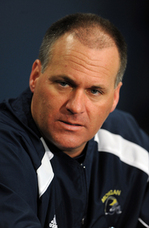 With a charge of failing to promote an atmosphere of compliance central to each accusation, Buckner said Michigan must do everything it can "to make sure that there's no show-cause order against Rodriguez."
Show-cause orders are sanctions against individuals found to have committed NCAA violations and can include a variety of punitive measures like reduced recruiting and coaching activities.
"Michigan would have to make sure that Coach Rodriguez follows the show-cause order," Buckner said. "If he's found to have committed the failure to monitor, issued a show-cause order, and then he goes to West Virginia … and if he's found to have failed to monitor in that case, than a show-cause order can be enhanced significantly."
Show-cause orders have been issued in several recent high-profile infractions cases.
Former USC football assistant Todd McNair was fired last month after he received a one-year show-cause penalty for his role in the Reggie Bush case. And former Indiana basketball coach Kelvin Sampson was given a five-year show-cause penalty for his part in a recruiting scandal.
Sampson, now an assistant coach with the NBA's Milwaukee Bucks, was effectively banished from the NCAA, at least until recruiting restrictions are lifted against him in 2013.
Buckner said Michigan must "provide as much evidence as (it) can to defend Coach Rodriguez so that (it) can eliminate that failure to monitor allegation."
"Whether or not you can actually do that" remains to be seen, he said.
How the NCAA defines a show-cause order.
• A show-cause order is one that requires a member institution to demonstrate to the satisfaction of the Committee on Infractions (or the Infractions Appeals Committee per Bylaw 19.2) why it should not be subject to a penalty (or additional penalty) for not taking appropriate disciplinary or corrective action against an institutional staff member or representative of the institution's athletics interests identified by the committee as having been involved in a violation of NCAA regulations that has been found by the committee.
Dave Birkett covers University of Michigan football for AnnArbor.com. He can be reached by phone at 734-623-2552 or by e-mail at davidbirkett@annarbor.com. Follow him on Twitter @davebirkett