Posted on
Tue, Apr 13, 2010 : 7:45 p.m.
NCAA investigating Michigan football coach Rich Rodriguez's time at West Virginia
By Dave Birkett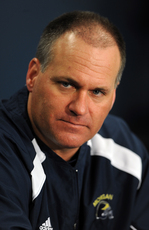 Michigan football coach Rich Rodriguez is the subject of a new NCAA investigation into his time at West Virginia, but athletic director Dave Brandon said Tuesday it won't affect his status as coach.
"There is nothing new that would cause me to change my position," Brandon said in a statement. "Rich will coach our team this fall."
Brandon said Rodriguez would return for his third season as Michigan coach in February when the university released a Notice of Allegations from the NCAA detailing five potentially major violations by the Wolverines football program.
The West Virginia probe, first reported by ESPN, centers around Rodriguez's time as Mountaineers coach, a position he held from 2001-07.
West Virginia assistant athletics director for communications Mike Fragale said Tuesday the university is cooperating with an NCAA inquiry, but declined to say when it started or whether it was related to Rodriguez's tenure at the university.
"The NCAA has met with individuals involved with the West Virginia University football program to identify any potential rules violations," Fragale said. "The university has fully cooperated with the NCAA during this process. West Virginia University and its department of intercollegiate athletics is committed to operating its athletic program in conformance with the legislation and policy of the NCAA and the Big East Conference."
Michigan director of football media relations Dave Ablauf interrupted a question about the West Virginia investigation when a reporter attempted to question Rodriguez at a press conference Tuesday.
"We're going to pass on that," Ablauf said. "We're moving on to the next question."
The university said in a statement earlier this spring that Rodriguez is "unable to comment on the ongoing NCAA process until it has been completed."
Rodriguez said Tuesday he's focused only on football this spring.
"It's just focusing on what we came here to do," Rodriguez said. "I think our players and our staff have really done a good job of staying focused on the things that we need to do to take this program where we want to take it. If I ask that of our staff and ask that of our players I've certainly got to do that myself."
Michigan has until May 24 to respond to its allegations and is due in front of the NCAA Committee on Infractions Aug. 13-14 in Seattle. The program could face probation, a loss of practice time and other penalties if it's found guilty of violating NCAA rules.
Brandon referred comments on the West Virginia investigation to the NCAA.
"There is no new NCAA investigation involving the University of Michigan," he said in a statement. "Any question regarding an NCAA query should be directed to the NCAA."
Dave Birkett covers University of Michigan football for AnnArbor.com. He can be reached by phone at 734-623-2552 or by e-mail at davidbirkett@annarbor.com. Follow him on Twitter @davebirkett.