Posted on
Fri, Nov 18, 2011 : 12:15 p.m.
Nebraska linebacker Lavonte David to get rematch against Michigan quarterback Denard Robinson
By Kyle Meinke
Nebraska linebacker Lavonte David was an all-Big 12 player last year and preseason All-America selection this year.
But he wasn't always so heralded.
The senior was a two-star recruit coming out of Northwestern High School in Miami, Fla., and was slated to enroll at Middle Tennessee State. However, he eventually rescinded his commitment there and enrolled at Fort Knox (Kan.) Community College for two years before transferring to Nebraska last year.
He set a school single-season record for tackles in his first year.
An interesting side note: In high school, David once played against Michigan quarterback Denard Robinson, who prepped at Deerfield Beach High School in Deerfield Beach, Fla.
It was a state semifinal game, and David's Northwestern team prevailed (it went on to win its second consecutive state title and earn USA Today's No. 1 ranking, thanks to David and teammate Jacory Harris, who now is the quarterback at Miami).
Robinson better be ready for the rematch, as David easily is Nebraska's leading tackler and best player on defense. He's one of three players to watch when No. 20 Michigan (8-2, 4-2) and No. 17 Nebraska (8-2, 4-2) play at noon Saturday on ESPN:
Associated Press
Lavonte David
Class: Senior

Position: Linebacker

Size: 6-foot-1, 225 pounds

Hometown: Miami, Fla.

Breakdown: David went from junior-college transfer last year to preseason All-American this year thanks to a spectacular 2010 season, when he was thrust into a starting role due to two injuries. He's carried that momentum into this year, ranking among the Big Ten leaders in tackles. He gained 10 pounds in the offseason to account for the physicality of the Big Ten. His matchup with Michigan quarterback Denard Robinson — against whom David played in high school — will be one to watch.

Notable stats: David's 97 tackles this season easily lead the team and rank fourth in the Big Ten. ... David set a Nebraska single-season record for tackles (152) and earned Big 12 Defensive Newcomer-of-the-Year honors last year, his first with the Cornhuskers after transferring from a junior college. ... David was a unanimous first-team All-Big 12 choice and earned All-America accolades from several outlets last year.

Quote: "I think (David's) proven himself. In fact, I know, from talking to scouts and agents, he's proven it over, over and over again. Thing is, you see him on TV and he's so fast, he's like a cat — you think of him as an undersized linebacker. He plays like a safety out there. (However), he's not undersized — he's a 225-pound WILL linebacker. That's as big as most, and maybe bigger than most." — Nebraska defensive coordinator Carl Pelini, according to the Lincoln Journal Star"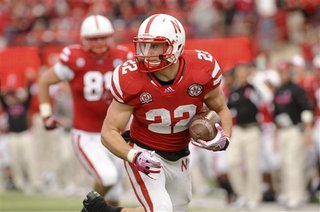 Associated Press
Rex Burkhead
Class: Junior

Position: Running back

Size: 5-foot-11, 210 pounds

Hometown: Plano, Texas

Breakdown: His hard-nosed running style is a nice complement to quarterback Taylor Martinez in the backfield. He often takes pitches out of the option look, which could present a challenge for Michigan freshmen corner linebackers Desmond Morgan and Jake Ryan. The Wolverines will have to play sound assignment football to account for Burkhead out of the looks.

Notable stats: Now at 1,072 yards on the season, Burkhead is the first Nebraska player to run for 1,000 yards in 10 games since quarterback Jammal Lord in 2002, and the first tailback since Dahrran Diedrick in 2001. ... He has eclipsed 100 yards rushing in four of his past five games. ... He has scored at least one touchdown in every game this season, two in four games and is second in the Big Ten in scoring (9.6 points per game). ... He is the Big Ten's third-leading rusher at 107.2 yards per game. ... Burkhead rushed for 990 yards last year to help Nebraska rank first in the Big 12 in the top-10 nationally in rushing.

Quote: "He's like the witch doctor. You'll never know what he'll do." — Nebraska coach Bo Pelini, on offensive coordinator Tim Beck's recent wrinkles, including putting Burkhead under center, according to the AP.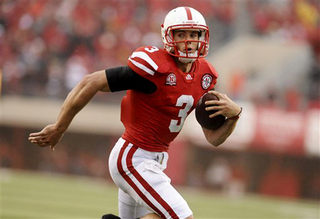 Taylor Martinez
Class: Sophomore

Position: Quarterback

Size: 6-foot-1, 200 pounds

Hometown: Corona, Calif.

Breakdown: The game appears to be slowing down for the Martinez, who ran the option at Penn State as well as he has all year. His decision making was sound and quick. He also is becoming more effective with his arm, completing 65.1 percent of his passes for 432 yards, two touchdowns and no picks the past two weeks. The best way for Michigan to attack Martinez is to limit him in the rushing game and force him to the air.

Notable stats: He is on the Big Ten leaderboard in several categories, including rushing (seventh), total offense (third), passing yardage (seventh) and touchdowns (eighth). ... His 76.8 yards rushing per game is second among Big Ten quarterbacks, trailing only Michigan's Denard Robinson. ... He has thrown only one interception in his past four games. ... He needs 197 yards to match last year's rushing total. ... He set the school's single-game rushing record as a freshman last year against Kansas State (241). ... He was named the Big 12's freshman of the year and a Davey O'Brien semifinalist last year.

Quote: "Because of last year with my ankle injury, I really wasn't in a very good mood all the time. This year, I'm in a lot better mood." — Martinez, on comparing his slow finish last year to his recent uptick in production this year, according to the Lincoln Journal Star


Kyle Meinke covers Michigan football for AnnArbor.com. He can be reached at 734-623-2588, by email at kylemeinke@annarbor.com and followed on Twitter @kmeinke.