Posted on
Sat, Nov 19, 2011 : 6:22 p.m.
Nebraska's turnovers lead to 45-17 rout for Michigan football team
By Nick Baumgardner
Melanie Maxwell | AnnArbor.com
It had been nearly five decades since Nebraska last visited Michigan Stadium.
Forgive the Wolverines, though, for not rolling out the red carpet.
Fitz Toussaint rumbled for 138 yards and two touchdowns Saturday and No. 20 Michigan flexed its new-found defensive muscle all afternoon as the Wolverines pasted the No. 17 Cornhuskers 45-17 in the first Ann Arbor-meeting between the two schools since 1962.
"It's probably as well as we've played in all three phases (this season)," Michigan football coach Brady Hoke said. "As a group they played with great toughness and complimented each other well.
"It didn't matter if it was Nebraska or Slippery Rock, we want to win football games."
Michigan (9-2, 5-2) will head into next weekend's annual Ohio State battle with its best record since taking an 11-0 mark into the 2006 contest.
And with 5:54 to play in the fourth quarter, the Michigan Stadium crowd of 113,718 began chanting, "Beat Ohio."
"Everyone knows how big (the Ohio State game) is," Michigan defensive tackle Mike Martin said. "This week has to be one of our best weeks of preparation.
"Period."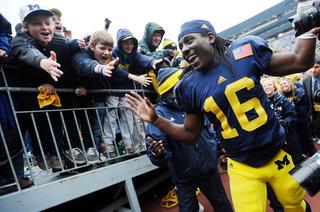 Melanie Maxwell | AnnArbor.com
After turning in its best defensive performance of the season a week ago at Illinois, the Michigan defenders seemed to top themselves Saturday against the Cornhuskers.
Michigan forced three turnovers and held Nebraska to 260 yards. The Cornhuskers began the day going 0-for-7 on third down before finishing 3-for-13.
The Wolverines limited Nebraska running back Rex Burkhead to a season-low 36 yards on the ground. Cornhusker quarterback Taylor Martinez ran for just 49 yards, also a season-low.
"The seniors on that defense have done a tremendous job," Hoke said. "They're prideful kids, the Mike Martins, (Ryan) Van Bergens, (Troy) Woolfolks. We, from day one, have said that we're always going to play and coach for our seniors.
"The young guys understand that. Fundamentally and technically, they're playing what they're coached to do and they're playing together. It's been fun to watch."
Offensively, the Wolverines played with balance, as junior quarterback Denard Robinson rushed for 83 yards and two touchdowns while throwing for 180 yards and two scores.
After taking a seven-point lead into the half, Michigan took advantage of a pair of early second-half miscues by Nebraska to pad its lead.
Sophomore cornerback Courtney Avery recovered a fumble, which was forced by junior receiver Terrence Robinson, on the opening kick of the second half, setting the Wolverines up on the Cornhusker 31.
Seven plays later, Robinson scampered into the end zone untouched on a 1-yard bootleg run to make it a two-score game.
Things went from bad to worse for Nebraska on its next possession, as Michigan safety Josh Furman blocked a Brett Maher punt, giving the Wolverines the ball on the 50. Michigan again took advantage, using a fake-field goal run by Drew Dileo near the goal line to set up a 1-yard scoring burst from Toussaint to make it 31-10 with 5:03 to go in the third.
The Cornhuskers showed signs of life late in the third, taking advantage of a poor Michigan punt with a short 31-yard drive, capped by an Ameer Abdullah 3-yard touchdown run.
Nebraska looked to be in better shape minutes later, forcing the Wolverines into a quick three-and-out. But a roughing the punter call kept Michigan's drive alive, and Robinson eventually made the Cornhuskers pay.
The junior quarterback's 38-yard touchdown pass into the back of the end zone to Martavious Odoms gave Michigan its 21-point lead back, and effectively put the capper on a Wolverine party.
Toussaint wrapped up Michigan's scoring with a 31-yard touchdown run seven minutes to play.
Toussaint has now ran for more than 100 yards in four games this season, and sits 109 yards shy of 1,000 for the season.
"It was a very physical game, but we prepared all week for it," Toussaint said. "We knew what was coming and we expected everything."
In the first half, Wolverines jumped out in front early, as Robinson led Michigan on an eight-play, 79-yard march on the team's second possession, capping things off with a 6-yard touchdown pass to Jeremy Gallon to make it 7-0.
Michigan would go up 10-0 two minutes later after Brendan Gibbons connected on a career-high 42-yard field goal.
Nebraska bounced right back, though, as Martinez found a wide-open Brandon McKinnie over the middle for a 54-yard touchdown pass on the ensuing drive. The score was the longest play Michigan has allowed this season.
After Maher tied things up with a 51-yard field goal early in the second quarter, Robinson gave Michigan the lead right back, polishing off a 12-play, 74-yard drive with a 14-yard scoring scamper to give the Wolverines a 17-10 lead at the break.
Michigan will try for its first victory against Ohio State since 2003 on Saturday at Michigan Stadium.
The Wolverines are currently saddled with their longest losing streak in the history of the series, but this year, Michigan players say they'll enter the season finale with a different feeling.
They'll actually be confident.
"This is the best win that we've had since I've been on the team," Michigan junior safety Jordan Kovacs said. "I don't think we've ever had a game this late in November that meant as much as this one, so it was a big win and a fun win.
"But we're looking forward to next week."
Check out AnnArbor.com's Michigan Football News and views on Facebook. "Like" the page and sign up for your chance to win 4 Ohio State at Michigan football tickets.
Nick Baumgardner covers Michigan sports for AnnArbor.com. He can be reached at 734-623-2514, by email at nickbaumgardner@annarbor.com and followed on Twitter @nickbaumgardner.