Posted on
Mon, Nov 28, 2011 : 8:01 p.m.
New Buckeyes coach Urban Meyer: Michigan-Ohio State is 'the game of games'
By AnnArbor.com Staff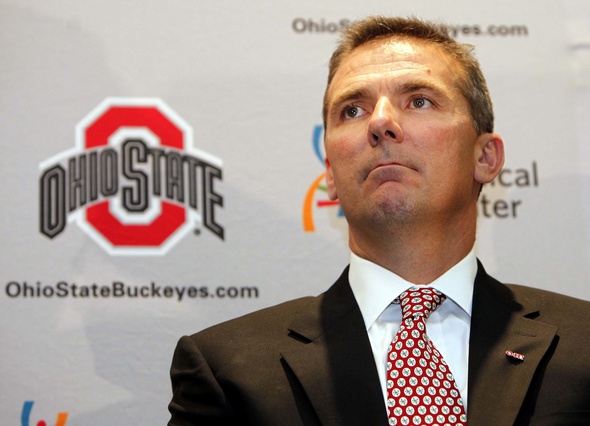 AP Photo
You can't name an Ohio State (or Michigan) football coach without some questions about Michigan (or Ohio State) at the introductory press conference.
That was true Monday, when Urban Meyer was officially hired to lead the Buckeyes.
The Ohio native, who started his coaching career as a graduate assistant for former Ohio State coach Earl Bruce, called the Michigan-Ohio State rivalry "the game of games," and one that he "grew up watching."
"The one thing that I know about that game … as much as there is dislike and hatred across college football in some rivalries, there's a share of that, but there's also a lot of respect in that rivalry," Meyer said. "And, I'm really looking forward to coaching in it."
Meyer was on the Ohio State coaching staff for two Michigan-Ohio State games.
What he remembered most about the first, played in 1986, was former Michigan quarterback Jim Harbaugh guaranteeing a win at Ohio Stadium. Jamie Morris helped him make good on that guarantee, rushing for 210 yards and two touchdowns in a 26-24 win.
The second game, in 1987, when Bruce was fired before the trip to Ann Arbor and Ohio State beat the heavily favored Wolverines. Bruce has remained a close friend and confidant of Meyer through the years.
Meyer takes over a program that is likely facing NCAA sanctions and was crippled by the forced resignation of former coach Jim Tressel. The Buckeyes completed their only season under Luke Fickell with a 40-34 loss to Michigan on Saturday that snapped a seven-game winning streak to their rivals.
Michigan coach Brady Hoke, who emphatically stressed the importance of the Michigan-Ohio State rivalry in his own press conference, downplayed the role coaches play in The Game.
"You know, he's not going to play a down and neither am I," Hoke said on Monday. "I've known Urban. He's a good football coach. He's a good guy. I'll welcome him in, but this is still Michigan and Ohio. It's still going to be that rivalry. Neither one of us is going to play a game."
In 10 seasons as a head coach — two at Bowling Green, two at Utah and six at Florida — Meyer has a 104-23 record. His teams are 7-1 in bowl games, including the Gators' 41-14 victory over unbeaten and top-ranked Ohio State in the 2007 Bowl Championship Series title game.
Meyer inherits a program still facing NCAA sanctions. But he also inherits a young team led by a freshman quarterback, Braxton Miller, who would seem to be a perfect fit for his spread offense.
"We're putting a lot of pressure on this cat," Meyer joked once after several questions about the freshman. "He's special."
A native of Ashtabula, Ohio, Meyer becomes the 24th head coach at Ohio State. He succeeds Fickell, who took over last spring when Tressel's 10-year reign came crashing down. Tressel was forced out for knowing but not telling his superiors that Buckeyes players had most likely broken NCAA rules by taking cash and free or discounted tattoos from the subject of a federal drug-trafficking investigation.
Ohio State's .500 record this season marked the most losses at Ohio State since John Cooper's 1999 team also went 6-6 overall and 3-5 in the Big Ten.
The Buckeyes had already lost their string of six Big Ten titles when the school was forced to vacate the 2010 season for the NCAA violations. The school has also self-imposed two years of NCAA probation, offered to return $339,000 in bowl revenue from 2010 and to give up five scholarships over the next three seasons.
Ohio State is awaiting final word from the NCAA's committee on infractions. The committee tagged Ohio State with a "failure to monitor" label — second only to a lack of institutional control on the list of most egregious charges against a university. The school could still be hit with a bowl ban, a loss of more scholarships, or other penalties.
The Associated Press contributed to this report.