Posted on
Mon, Nov 21, 2011 : 2:51 p.m.
New celebration makes it clear: Michigan football team 'starving' for a win against Ohio State
By Kyle Meinke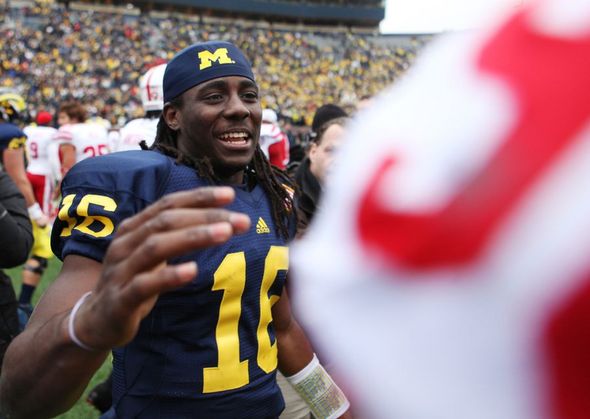 Jeff Sainlar | AnnArbor.com
The Michigan football team has dropped seven in a row to its biggest rival and is starving for a win against those Ohio State Buckeyes.
That also happens to be the inspiration for quarterback Denard Robinson's newest touchdown celebration, in which he makes circular motions with his hands in front of his mouth, as though he were eating.
"This program's been starving for a while," Robinson said Monday. "It's time for us to make something happen.
"We've been starving. It's time for us to eat."
Robinson scored four touchdowns in a 45-17 romp against Nebraska last week, providing plenty of opportunities for him to unveil the celebration. It is a not-so-subtle reminder that, although the Wolverines are 9-2 and off to their best 11-game start since 2006, there still is plenty to play for.
As in, a win against the rival Buckeyes.
Robinson said he started it a couple weeks ago, but it's begun to catch on among teammates — and even running backs coach Fred Jackson — as the No. 17 Wolverines (9-2, 5-2) prepare to Ohio State (6-5, 3-4) at noon Saturday on ABC.
Michigan hasn't beaten the Buckeyes since 2003, when Robinson still was in the seventh grade at Deerfield Beach Middle School.
"Oh man, that's crazy!" Robinson said.
The only thing? Coach Brady Hoke said he won't talk to his team about the streak this week.
"We've got educated young men who are here, at a great university, and I think me telling them that would probably insult them and their intelligence," Hoke said.
Hoke has put his own touch on this rivalry, starting with his reference to the Buckeyes as, simply, "Ohio." But this year's game has a different feel for other reasons as well, especially with the team playing for a shot at a BCS bid.
And then there's momentum, which Michigan has going into this game for the first time since 2006. It is coming off a 45-17 romp against Nebraska, in which Robinson scored four touchdowns, providing plenty of opportunities for his new celebration.
The Wolverines are 9-2 and have won two of their past three. They opened as a 7.5-point favorite against the Buckeyes, who have lost two in a row.
This will be Michigan's best shot at the Buckeyes since that No. 1 vs. No. 2 game in 2006. And, for the seniors, their last shot as earning a win against their biggest rival.
"The focus has always been on Ohio," senior defensive lineman Ryan Van Bergen said. "We know how big this game is. I don't think anyone in our Michigan football building, all the way from staff to the people who let us in the doors — there's no one who does not realize this is the biggest game of the entire year.
"Sixty minutes determines (everything)."
Kyle Meinke covers Michigan football for AnnArbor.com. He can be reached at 734-623-2588, by email at kylemeinke@annarbor.com and followed on Twitter @kmeinke.