Posted on
Wed, Jan 12, 2011 : 10:21 p.m.
New Michigan football coach Brady Hoke gets a standing ovation and makes an impression on John Beilein
By Michael Rothstein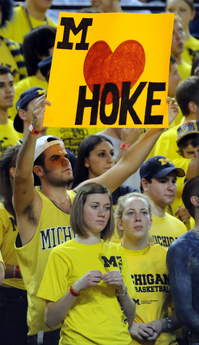 Lon Horwedel | AnnArbor.com
As soon as Brady Hoke entered Crisler Arena on Wednesday night, a camera crew in tow, the applause started.
Small at first, with a few people standing. Hoke made his way along the right side of the Crisler Arena court and with his new boss, Michigan athletic director Dave Brandon following behind, found his seat in the front row.
When he sat down, the Michigan student section — the Maize Rage — erupted. They chanted 'Brady Hoke. Brady Hoke. Brady Hoke.' Officially named as Michigan's football coach a little over 24 hours earlier and in the Midwest for less than a full day at that point, Hoke looked to the student section.
He pointed with both of his hands as if to say "Thank you" and "I appreciate it." The students went wild.
That was just the beginning.
While Hoke didn't speak to the crowd at halftime against Ohio State like his predecessor, Rich Rodriguez, he was announced to the crowd at the first official timeout and received a standing ovation.
Then he, his wife, Laura, and his daughter, Kelly — all graduates of Ball State — led the Crisler Arena crowd in "The Victors."
Crisler Arena was so loud, even Michigan basketball coach John Beilein noticed.
"I could hear that in the background," Beilein said. "I wanted to turn around and look but thought I probably should do my job.
"I knew what was happening and I just loved it."
For Crisler and a basketball game, it was a raucous atmosphere. In the second half, Michigan's fanbase gave a standing ovation to quarterback Denard Robinson,who has not commented on whether or not he will return to Ann Arbor for his junior year after the dismissal of the coach that recruited him, Rich Rodriguez. Then, with his face on the JumboTron screen, Robinson led the crowd in "The Victors."
Hoke also was in the Michigan basketball locker room before the game and was seen leaving the locker room after the game.
In a brief meeting, Beilein was impressed.
"You can tell, he has a bit of a quiet charisma about him," Beilein said. "I really felt comfortable talking to him. I can really see why he's a good recruiter and the kids really like him."
Michael Rothstein covers Michigan basketball for AnnArbor.com. He can be reached at (734) 623-2558, by e-mail at michaelrothstein@annarbor.com or follow along on Twitter @mikerothstein.