Posted on
Wed, Jan 12, 2011 : 6:25 p.m.
New Michigan football coach Brady Hoke makes strong first impression on players
By Jeff Arnold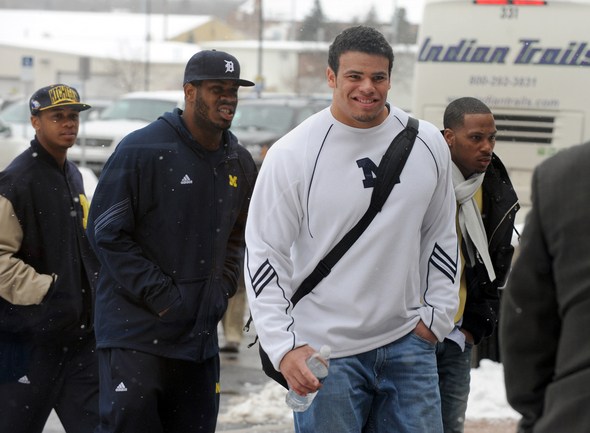 Lon Horwedel | AnnArbor.com
Taylor Lewan woke Wednesday morning not knowing a great deal about Brady Hoke.
Like many of his Michigan football teammates, the offensive lineman knew the new Wolverines coach demanded toughness, evidenced by the stories Lewan had heard from former players such as Jon Jansen.
When Hoke worked as the Wolverines' defensive line coach between 1995 and 2002, he used to stand, protected, behind lineman Glen Steele, delivering verbal shots over the line of scrimmage, trying to goad Jansen and his line mates.
Hoke did so with a purpose, trying to draw out the best in Michigan's offensive front. But he also did so with a smile.
"We're all big kids playing a game," said Jansen, who captained the 1997 national championship team. "(Hoke) is the same way - he made it fun. ... You were going to get your work done, but you were out there to enjoy the sport, and that's what he brings to us."
Current Michigan players began to get a glimpse of Hoke's personality Wednesday when they met with him for 45 minutes. Hoke plans to meet with players on a one-on-one basis over the next several days.
But as they stood in the back of the Junge Family Champions Center during Hoke's introductory press conference, players heard Hoke talk about how hard his players would work every time they stepped onto the field. He spoke of how his players would be accountable - not only to one another, but to the program, their academics and to the community.
Yet, as little as they began the day knowing about Hoke, this much they knew: He was already one of them.
"He knows a lot about Michigan," Lewan said. "They're not bringing in somebody you need to teach, 'this is 'The Victors,' this is this, this is that.' He knows what he's doing.
"He knows what this whole university is all about."
Michigan athletic director Dave Brandon characterized Hoke as a player's coach, a title Hoke said is sometimes mistaken with being soft. While players, including nose guard Mike Martin, understand him to be coach who likes to have fun, when it comes to preparation, there is no mistaking Hoke's true mission.
"I think if you went there in the back of the room and asked (former players), if I'm a soft guy, I think you may find an opinion on that," Hoke said.
"When your whole sense is to help develop kids in academic, social and in a competitive athletic standpoint, and that's what you look at and what you lean on, then, those players are going to understand that you really care. I can promise you that's what we care the most about."
Brandon said Michigan's coach needs to change young men's lives.
"Michigan Men do that; they create other Michigan Men," Brandon said during Wednesday's press conference. "(Hoke) is all about that."
Players expect to learn more about Hoke's expectations when they meet with him. Hoke said he realizes there is plenty of work to be done - both in winning over current players and recruits.
"Obviously, he's a player's coach and his players love him," safety Jordan Kovacs said. "He's an intense guy. I think he's going to be a tough coach, but I think he earns the respect of his players, and that's definitely important.
"He's just a very passionate person and someone who's passionate about this program, and I expect that to pay dividends in the fall."
Jeff Arnold covers sports for AnnArbor.com and can be reached at (734) 623-2554 or by e-mail at jeffarnold@annarbor.com. Follow him on Twitter @jeffreyparnold.