Notre Dame quarterback Dayne Crist healthy and wants to be more aggressive against Michigan
Posted on Thu, Sep 9, 2010 : 1 p.m.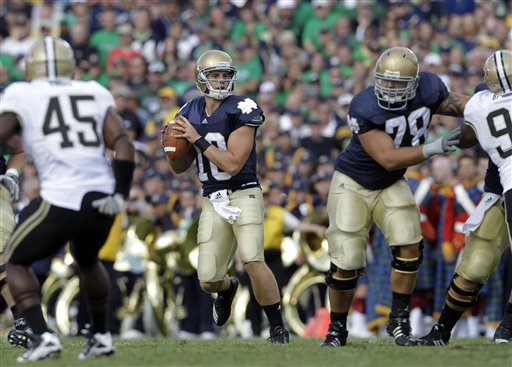 Associated Press
John Goodman wasn't sure what to expect when he went to California this summer to work out with quarterback Dayne Crist.
He saw the Notre Dame junior in spring practice as the Irish players transitioned from Charlie Weis' pro-style offense to the spread offense under new coach Brian Kelly. And Goodman, a junior wide receiver, knew Crist had potential. After all, Goodman caught the first touchdown pass of Crist's career late in the second half against Washington State last Halloween.
Soon after, though, Crist's season turned into a nightmare. He tore his right ACL in that game - a 40-14 Notre Dame victory - and his rehabilitation process couldn't guarantee he'd be 100 percent and ready to be the Notre Dame starting quarterback this fall. Knees can be tricky things.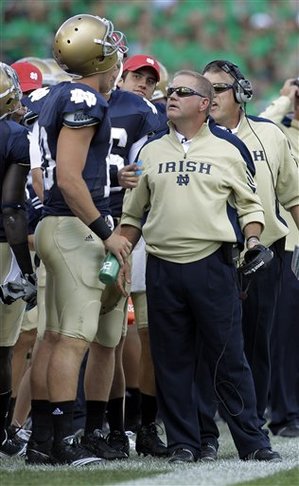 Associated Press
Yet Crist progressed through the spring. The knee, then in a brace, held up. Then came the summer.
"He was throwing really well," Goodman said. "He didn't even have to have his brace on, and he was moving around and was being elusive.
"A lot of people are tentative when they come back from an injury like that. I didn't think he was at all. That was huge for him, because that could definitely get in your head."
Crist came back confident and looking like the five-star recruit Weis nabbed a year after Jimmy Clausen signed with Notre Dame. Crist knew when he signed there was a good chance he'd be watching until Clausen left Notre Dame.
When the eventual second-round NFL Draft pick declared after his junior year, it became Crist's team. Fast forward to this past week, when Crist went into the season for the first time as the starter. That's when it became clear it was his team.
"There's just a lot more ownership going into it," Crist said after Notre Dame beat Purdue, 23-12, on Saturday. "As a starter, it is different than going in as a backup or preparing to be a starter. It was one of those situations where I think the biggest thing was ownership, and that you did everything possible to prepare, and you're keeping your team in the best situation possible."
Crist can cement his leadership role Saturday when Notre Dame (1-0) plays host to the Michigan football team (1-0) at 3:30 p.m. (NBC).
Crist hasn't changed much from the high school senior who scarfed down an In-N-Out Burger with a visitor and his high school and college teammate Anthony McDonald in April 2008.
Back then, he was down-to-earth, understood his role and humble considering his high-profile recruit status. Being a big-time recruit never fazed him.
Neither has becoming Notre Dame's starting quarterback.
The starting quarterback at Notre Dame usually garners more attention than most - both good and bad. Former Irish quarterback Brady Quinn routinely had footballs, pictures and helmets left in front of his door to sign. Clausen had pictures of him and teammates at a party plastered over the Internet, and Clausen's involvement in a fight weeks before he departed Notre Dame became national news.
With Crist, not much has changed. He helps with charity causes on campus - he shaved his head and encouraged teammates to join in for the St. Baldrick's Foundation. The first year, he got involved. Last year, according to reports, he helped run the event.
He's been, pretty much, the same kid that arrived from California in the fall of 2008. Goodman would know.
The two, both majoring in management consulting in the Mendoza College of Business, have the exact same class schedule.
So they see each other often. And Goodman has seen Crist bombarded with Twitter followers - 2,719 as of noon Thursday - and random people calling his phone or approaching him on campus.
"It doesn't affect him," Goodman said. "He's still the same person that's the friend I had since the beginning, when he wasn't starting and he wasn't playing at all.
"He stays positive and stayed positive, and he knew what was coming. Now that it's here, he hasn't gotten a big head. So that's big, too. He'll continue to stay that way because that's the type of person he is."
Well, one thing has changed. He's Notre Dame's starting quarterback. After a debut where he completed 19 of 26 passes for 205 yards, a touchdown and no interceptions, he's going to become more aggressive.
The knee held up. He played well. And his potential just continues to grow.
"There were a couple plays where I thought I could have taken a little bit more of a chance," Crist said. "But those come and go. Both plays that I'm thinking of we completed the ball, so it's kind of a Catch 22 on that one.
"But those things will come. Again, I'm not worried about it. I'm not going to play scared or anything like that. I'll do whatever is asked of me, and that's how I've been since I've been here, and I don't see that changing anytime soon."