Posted on
Sat, Apr 7, 2012 : 5:59 a.m.
Now healthy, Michigan football junior Cam Gordon fully embracing strongside linebacker role
By Nick Baumgardner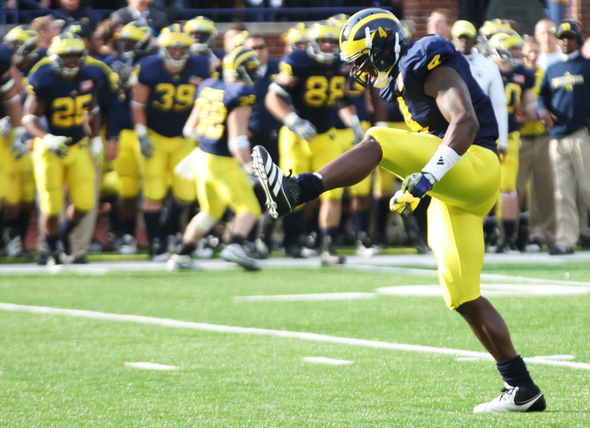 Jeff Sainlar I AnnArbor.com
If Cam Gordon was frustrated last season, Greg Mattison really doesn't blame him.
Recruited as a wide receiver before switching to safety under former Michigan football defensive coordinator Greg Robinson, Gordon was asked to take on a different role shortly meeting Mattison last winter.
Once a wideout, then a safety and now an outside linebacker? Mattison understood any apprehension Gordon may have felt.
"If I was a safety and some old, bald-headed guy came in here and said 'we're going to take you from safety and put you right up there on a big tight end,' I'd kind of go 'OK,'" Mattison says with a mock look of concern on his face. "But any time it didn't work well, I'd look over at that coach (and wonder what was happening).
"This year, he's doing it very physically. And if (something) doesn't work, he knows why. And knows how to get better at it."
Entering the season-opener last season, Gordon seemed to be easing into his new position just fine. He ended fall camp atop Michigan's depth chart at strong-side linebacker.

However, a football-related back injury derailed those plans -- and eventually cost him much more.
Gordon missed the first six games of the season due to the injury and by the time he returned, Jake Ryan had emerged as one of Michigan's most consistent outside linebackers, pushing Gordon further down the depth chart.
Gordon played in seven games last season, but only appeared at linebacker in one contest. He finished with just four tackles after racking up 77 as a redshirt freshman in 2010.
If the injury weren't enough, the overall comfort level at the position was even more of a hindrance for the 6-foot-3, 222-pound Gordon.
Since then, Gordon's back has returned to full health and his overall knowledge of his new position has increased exponentially.
"Cam can probably say 'I know now I am a SAM,'" Mattison said. "A year ago he moved from safety down there and (it was) 'we'll see.' Now he says 'yeah, I understand this part of it, and I want to be good at this.'
"But he's been great (this spring). He's worked very hard in the weight room."
Mattison said Gordon is learning how to become a better pass rusher by the day, and his presence among the front seven only adds to the overall speed of Michigan's aggressive, blitzing defensive schemes.
More importantly, Gordon's emergence gives the Wolverines depth -- and more options as the season wears on.
"I'm really excited about (Gordon) because Jake really never came off the field last year," Mattison said. "He truly played almost every snap of every game. Now, it allows you to (have) a very, very good player that can complement him."
Now with a healthy Gordon and an ever-improving Ryan, Mattison's hopes that any lingering frustration from his strong-side linebackers will fully become a thing of the past.
"Cam and Jake have worked very, very hard at that position this spring," he said. "And I really believe they've improved."
Nick Baumgardner covers Michigan sports for AnnArbor.com. He can be reached at 734-623-2514, by email at nickbaumgardner@annarbor.com and followed on Twitter @nickbaumgardner.