Posted on
Tue, Nov 22, 2011 : 12:10 p.m.
'Beat Ohio:' Michigan football coach Brady Hoke sticks with pet name for Buckeyes
By Rich Rezler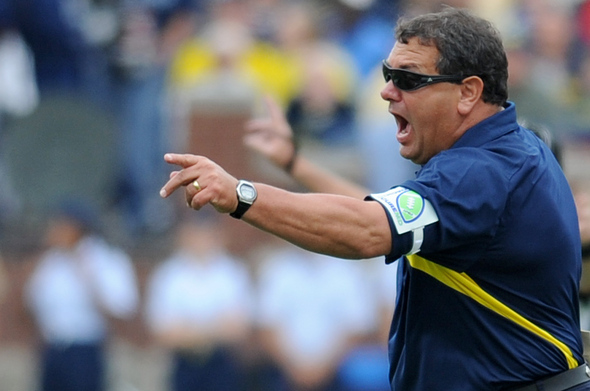 Angela J. Cesere | AnnArbor.com
It started quickly, just 151 seconds into his introductory press conference.
After thanking Michigan officials for the new job and his family for their support, new Michigan football coach Brady Hoke set the tone for the next 10 months.
"Growing up in the state of Ohio, I had a lot of respect for Coach (Woody) Hayes and loved Coach Hayes," Hoke said. "But I was not a fan of that university in Ohio because my buddies were, so I had to be different. I became a Michigan fan, fanatical about the University of Michigan."
For the next 40 minutes of that Jan. 12 press conference, Hoke refused to say the words Ohio State, referring to the university as simply Ohio or "that university in Ohio" or "that school in Ohio."
It wasn't designed to get a quick rise from fans or provide an early sound bite for television cameras. Hoke has adamantly refused to say the words ever since, and much of the program — from players to staffers to fans — have followed suit.
Take, for instance, the chant that filled Michigan Stadium with six minutes remaining in the Wolverines' 45-17 win against Nebraska last Saturday.
"Beat O-hi-o!"
Every year prior to the Brady Hoke era, that chant has been "Beat the Buckeyes."
"Always have," Hoke said with a shrug Monday, when he was asked why he says Ohio rather than Ohio State.
Since when? "Always. So whenever always is."
Michigan players have been saying it since the day Hoke was hired. Or maybe it was the next day. Senior captain Kevin Koger couldn't remember for sure.
But Koger says it was their first or second meeting that Hoke introduced the way they would start every team gathering. It includes Hoke saying "Beat," and the team replying, "Ohio."
"He came in January, and we've been saying it ever since, and now we're finally here," Koger said. "There's definitely a little more emotion when we do say it this week."
Senior defensive lineman Ryan Van Bergen says he calls this week's opponent Ohio for a simple reason.
"That's what Coach Hoke says, that's what I say," Van Bergen said. "He's my leader. He's my coach."
Koger and Van Bergen both said they're not sure why Hoke won't say Ohio State.
"I actually have no idea why he calls them that. To be honest, it doesn't matter," Van Bergen said. "We know what school he's talking about. There are more important things to try to decipher than to figure out why he calls them that."
It's just one of numerous superfluous steps Hoke has taken to place a focus on the rivalry game. There's a clock counting down the time until kickoff and a sign counting up the days since Michigan has beat the Buckeyes.
Hoke also says he won't wear red — he never did when he coached at Ball State or San Diego State, two schools that include red in their color scheme — and won't allow players to wear red in Schembechler Hall.
It all goes back to that introductory press conference. At about the 31-minute mark, Hoke was asked specifically about the Ohio State rivalry. He answered the question with podium-pounding intensity.
"I think that rivalry is special, it's like none other in football," he said. "It is the most important game on that schedule. Not that the others aren't important, but it is the … Most. (Pound.) Important. (Pound.) Game. (Pound.) On. (Pound.) That. (Pound.) Schedule.
"It's very important to me. It's almost personal."