Posted on
Wed, May 18, 2011 : 9:44 a.m.
Ohio State athletic director Gene Smith supports football coach Jim Tressel
By Michael Rothstein
CHICAGO — Ohio State athletic director Gene Smith wouldn't talk Wednesday about the ongoing NCAA investigation into the Buckeyes' football program.
But he did do one thing. He supported his coach, Jim Tressel.
"Oh definitely, no question," Smith said before the final day of the Big Ten spring meetings Wednesday. "I haven't changed. But I'm not talking about the case beyond that."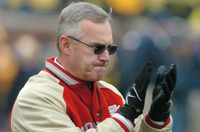 Ohio State, and specifically Tressel, received a notice of allegations from the NCAA outlining multiple NCAA violations, including Tressel covering up what he knew and lying to NCAA investigators.
The school is in the midst of preparing its defense for a Committee on Infractions hearing on Aug. 12 in Indianapolis.
Big Ten athletic director Jim Delany said Tuesday that he will offer guidance to Ohio State if the school would like it, just like he did for Michigan a year ago and any other conference school under NCAA investigation.
"I'm always available to advise our schools, always," Delany said. "Ive never not been at a hearing. I've always been at a hearing and depending on the institution and the hearing they all have institutional representation, they all have outside representation and at their request we're available to consult.
"In most cases, not very much. In some cases, little, but usually not more than (advising) a little."
Tressel stopped to talk for 46 seconds this morning and said he has had the support of Big Ten coaches.
"Coaches are great," Tressel said. "They understand all the challenges that everyone has just like your peers understand yours and it's good to be with them."
Download the Ohio State notice of allegations from the NCAA: OHIO-STATE-notice-of-allegations.pdf
Michael Rothstein covers University of Michigan basketball for AnnArbor.com. He can be reached at (734) 623-2558, by email at michaelrothstein@annarbor.com or follow along on Twitter @mikerothstein