Posted on
Mon, May 30, 2011 : 1:36 p.m.
Jim Tressel's resignation closes an era in the Michigan-Ohio State rivalry
By Michael Rothstein
We come here today to close out another era in the Michigan-Ohio State rivalry.
As Jim Tressel leaves Ohio State under a shroud of scandal, this latest era of the biggest rivalry in college football is over. The iconic sweatervest, the one that tormented Michigan for the past decade, is gone, resigning early Monday morning.
Make no mistake. This is a burial, a funeral to celebrate or mourn the end of a section of this rivalry. If you're Michigan, this is the opportunity you've been waiting for since Tressel took over in Columbus. If you're Ohio State, you're wondering what's next.
Tressel's 9-1 record against Michigan won't grow. His slow torture of the Wolverines won't continue.
Tressel took over the Buckeyes during a period of Michigan dominance in the rivalry, with the Wolverines having a 10-2-1 record immediately prior to his hiring. Then he promised to beat Michigan in one of his first public speeches on the job.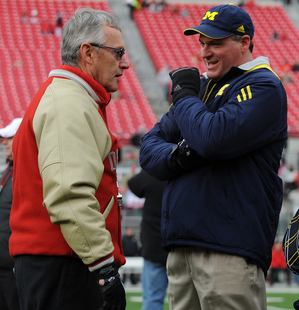 AnnArbor.com file photo
And he did. And did. And did. He started in 2001, beating Michigan in Ann Arbor, 26-20, and rarely letting up, losing only in 2003, 35-21, in Ann Arbor.
Even as Tressel dealt with this ongoing controversy earlier this month, he acknowledged the hiring of Brady Hoke at Michigan was good for the rivalry. But he'll never get to coach against him.
"Hopefully (it closes out the era), to say the least," former Michigan tight end Bennie Joppru said by phone Monday. "It'll be interesting to see how the Michigan fans want to remember this timeframe, whether they want to have an asterisk by it or what."
The reality is simple.
Tressel, whether he cheated or not, won. He won big.
He dominated at Youngstown State and then owned the Big Ten at Ohio State the past decade, winning or sharing seven conference titles and reducing the rest of the Big Ten into settling for second place with a 106-22 record.
Every Big Ten program except Iowa and Penn State has changed coaches at least once since Tressel started in 2001. Ohio State was always the program the rest of the Big Ten was compared against.
Now, it has to start over. At least for the time being, that happens with 37-year-old interim coach Luke Fickell, who has never been a Division I head coach.
Hoke vs. Fickell — the first time both Ohio State and Michigan will have new coaches in the same year since 1929, when Michigan's Harry Kipke and Ohio State's Sam Willaman took over — doesn't have the same cachet as Hayes vs. Schembechler or Carr vs. Tressel or even Rodriguez vs. Tressel.
Yet this is where the Ohio State-Michigan game is as it ushers in a new section to this yearly story.
"I'm sure it changes things," former Michigan offensive lineman Steve Schilling said Monday. "But it changed when coach Rod was here and it'll change now that coach (Brady) Hoke is back.
"But I'd say coach Tressel is a huge figure in college football."
'Is' no longer exists with Jim Tressel. 'Was' is now the correct context with him and Ohio State.
Of course, by the time the investigation into Tressel and Ohio State concludes, it's highly possible Tressel's era at Ohio State may end up as 'non-existent.'
Michael Rothstein covers Michigan sports for AnnArbor.com. He can be reached at (734) 623-2558, by email at michaelrothstein@annarbor.com or follow along on Twitter @mikerothstein.