Posted on
Fri, Nov 25, 2011 : 12:20 p.m.
Ohio State feeling 'drained' heading into Michigan game, Buckeyes reporter says
By Kyle Meinke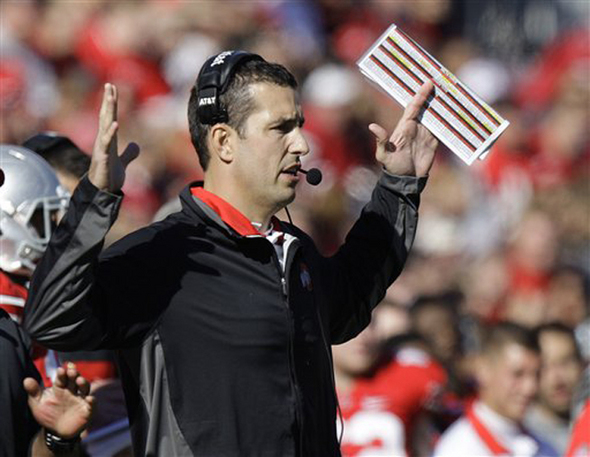 Associated Press
How is
Ohio State
feeling heading into this weekend's game against the
Michigan football
team?
"Drained," says beat writer Doug Lesmerises of The (Cleveland) Plain Dealer.
The reports of Urban Meyer becoming the Buckeyes' next head coach adds to the year-long drama for the school, which first came under fire last December for a memorabilia-for-gifts scandal that enveloped coach Jim Tressel and quarterback Terrell Pryor, among others.
It has led to waves of suspensions — top receiver DeVier Posey will be playing in his second game of the year against the Wolverines, and Dan Herron his sixth — and the rise of assistant Luke Fickell to coach.
It's been anything but a smooth ride for Fickell, whose team is 6-5 and riding a two-game losing streak into its biggest game of the year — and now may lose his job before his first (only?) season as head coach is over.
Lesmerises still gives the Buckeyes a chance because of the Wolverines' inexperience at being the favorite in this game (hasn't happened since 2004), but he ultimately thinks Michigan will prevail.
He explains why in this week's beat writer breakdown:
Michigan has a chance to have two rushers eclipse the 1,000-yard mark against OSU in QB Denard Robinson and RB Fitz Toussaint. How will Ohio State try to keep in check the Wolverines' two-headed rushing attack?
Doug Lesmerises: The Buckeyes' defense hasn't been consistent this season, but the Buckeyes are still generally pretty good against the run. They handled Wisconsin's run game for most of that win, for example. Last week, the greatest problems against Penn State came when the Nittany Lions ran from the Wildcat and caught Ohio State out of position. Defensive linemen John Simon and Johnathan Hankins have had good years, but the line as a whole has been vulnerable at times. The linebackers have been the biggest problems, but if senior Andrew Sweat is OK to play after sitting out last week with a concussion, the Buckeyes may pair him with true freshman linebacker Ryan Shazier, who made his first start in place of Sweat last week. Shazier has the speed and instincts to track down ballcarriers, while Sweat can help set the defense, so that combo may have the Buckeyes more ready against the run than in any other game this year.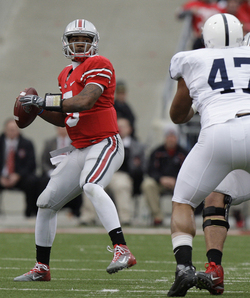 AP Photo
Braxton Miller will be the third consecutive running quarterback Michigan has faced, after U-M posted two of its best defensive performances against the previous two. How does Miller compare to Nathan Scheelhaase and Taylor Martinez, and what has made him effective this year?
DL: Miller is more like Scheelhaase than Martinez. Miller isn't as incredibly explosive as Martinez in running the option game, but he's also a more natural thrower. He's had trouble completing passes this season in part because of the playcalling, in part because of his young receivers and in part because he is reluctant to let the ball go in any tight spaces while trying to avoid turnovers. The way he has been hurting defenses is with quarterback draws and with scrambles on broken pass plays. He has good moves in the open field and the ability to make defenders miss, but he hasn't done much damage in the passing game so far.
It's Luke Fickell's first Michigan game as head coach, and now there is the distraction of Urban Meyer-to-Ohio State reports. How has he handled the pressure, and do you think the Meyer situation will affect the Buckeyes on Saturday? DL: I think this team has been a bit drained by the accumulation of off-season news this year, dating to the tattoo scandal of last December. No player on this team has done anything but win Big Ten titles on the field, so they're having some trouble staying motivated with that out of reach. They've had flat starts for three straight weeks. Fickell himself bristled this week a bit when asked about the coaching situation, saying there's a game at noon Saturday and his "(butt) will be there." I think that was a good sign. Overall, I think the Meyer situation will have some effect on Ohio State, but this could be Fickell's moment to draw one last effort out of a team that has gone through a lot.
Ohio State is 84th in the country in scoring. Michigan is sixth in scoring defense. How do you think the Buckeyes will attack the Wolverines' defense, and do you think they'll be successful?
DL: I think Ohio State will continue to try to run, with senior running back Dan Herron and with Miller. I'm done predicting a change of philosophy that yields some new version of the passing game. Senior receiver DeVier Posey will play his second game after missing the first 10 because of suspension, and he is clearly the best OSU receiver, by a mile. But he still had four catches last week, not 10. The offensive line features three seniors, and I think the Buckeyes will continue to try to pound the ball.
Where on the field will be Michigan's biggest matchup disadvantage?
DL: It's probably mental. On the field, the Buckeyes don't do anything the Wolverines don't have a chance to counter. But underdogs have fared pretty well in this series, and Michigan, with a potential BCS bid on the line, has to be ready to handle the opposite role in the rivalry, having not been favored in this game since 2004. Michigan's on-field edge isn't huge, and the Buckeyes playing at their best certainly have a chance. But the biggest Michigan disadvantage would be if the Wolverines are so excited to snap their seven-game losing streak to Ohio State, that they try too hard.
Doug Lesmerises' prediction: I expect Ohio State to allow Michigan to jump to the lead, after falling behind 10-0 in each of the last three weeks, and then both Denard Robinson and Braxton Miller will make a few big plays as neither offense is able to move the ball on a consistent basis. Robinson makes maybe one extra play, and Michigan holds on in a game that remains tight through the fourth quarter. Michigan 23, Ohio State 17
Doug Lesmerises covers Ohio State for The (Cleveland) Plain Dealer. Follow him on Twitter @PDBuckeyes.
Kyle Meinke covers Michigan football for AnnArbor.com. He can be reached at 734-623-2588, by email at kylemeinke@annarbor.com and followed on Twitter @kmeinke.