Posted on
Fri, Nov 25, 2011 : 9:47 a.m.
Ohio State hopes to slow Michigan QB Denard Robinson with a freshman linebacker
By Kyle Meinke
Could a freshman be the key to stopping quarterback Denard Robinson?
Ohio State hopes so.
The Michigan football team has rushed the ball well this year -- to the tune of 231.9 yards per game, which trails only Wisconsin in the Big Ten. Robinson has played a big role in that production since becoming the starter last year.
This season, however, the emergence of sophomore tailback Fitz Toussaint has helped to take some of the running burden off Robinson. Both have been successful, and each could surpass the 1,000-yard mark in Saturday's game against Ohio State (noon, ABC).
Toussaint is at 891 yards, and Robinson's at 993.
Ohio State hopes to slow that one-two punch with freshman linebacker Ryan Shazier, who recorded 15 tackles last week after starting for injured star Andrew Sweat.
It was Shazier's first career start, but the Buckeyes have been high on him all year. Defensive coordinator Jim Heacock said Shazier could be used to spy on Robinson.
"You know, he's got the ability to get to (Robinson)," Heacock said. "He's got the ability to make a play in space against him, which some players don't. There's just some guys who don't move well enough that they can get that done.
"I don't think there's any question it's nice to have a guy of his caliber and his speed and acceleration and explosiveness in the game, that he can get to the ball and gives you a chance. And if you know Denard's going to run, you feel like he's got a chance to at least get in his face and slow him down."
Shazier has terrific speed, and also has good instincts for a freshman, Heacock said.
It's likely he will start against No. 17 Michigan (9-2, 5-2), even if Sweat is able to return from his concussion.
Shazier is one of our "3 to Watch:"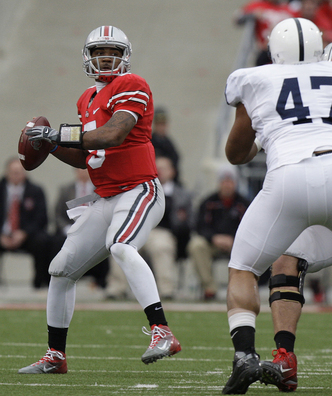 AP Photo
Braxton Miller
Class: Freshman

Position: Quarterback

Size: 6-foot-3, 210 pounds

Hometown: Huber Heights, Ohio

Breakdown: Miller is a big, strong dual-threat quarterback who is nimble on his feet. While predecessor Terrelle Pryor was more prone to simply outrun defenders, or stiff-arm them, Miller is more apt to juke them. He's been used more on quarterback draws and speed options, which have been the most effective offense for Ohio State in the past two weeks. Look for more of them against Michigan, testing those freshman corner linebackers. The key to stopping Miller is to force him to the air, where he's completing fewer than half his passes.

Notable stats: He has rushed for at least 99 yards in three of his past four games, and his 352 rushing yards in that span is more than any other quarterback in the Big Ten. ... He is ninth in the Big Ten in total offense (135.7 yards per game). ... He is ninth in rushing (64.3 ypg) and eighth in touchdowns in Big Ten games. ... Completed only one pass in a win against Illinois on Oct. 15. ... He is completing 48.6 percent of his passes, but has limited his interceptions to three (one every 36.3 pass attempts). ... Has eclipsed 100 yards passing twice.

Quote: "I just never get nervous." — Braxton, according to The Lantern"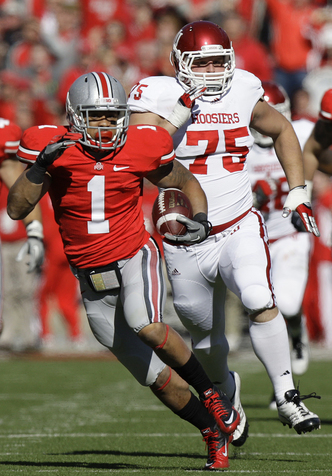 AP Photo
Dan Herron
Class: Senior

Position: Running back

Size: 5-foot-10, 205 pounds

Hometown: Warren, Ohio

Breakdown: Herron has played in just five games because he was suspended for accepting improper benefits from a tattoo parlor owner. He started quickly before struggling in his past two games. Ohio State is 3-0 when he rushes for more than 100 yards this year, and 0-2 when he doesn't. He is a tough between-the-tackles runner who will challenge the Michigan defense. Similar in style to Iowa's Marcus Coker, who rushed for 132 yards against the Wolverines.

Notable stats: He has run for 556 yards and two TDs in five games this year ... He averaged 138.3 yards in his first three games back from suspension, all wins, before dropping off to 70.5 in the past two, both losses. ... He was first-team All-Big Ten last year and scored a touchdown in 12 consecutive games. He finished with 1,155 yards rushing and 16 scores, including a 175-yard, one-TD game in the 37-7 win against Michigan.

Quote: "He's a very, very good running back, a hard-running back, and he's got some explosion, so that's always a test for a defense." — Michigan defensive coordinator Greg Mattison

Ryan Shazier
Class: Freshman

Position: Linebacker

Size: 6-foot-2, 212 pounds

Hometown: Plantation, Fla.

Breakdown: Shazier made his first career start last week against Penn State, playing for injured star Andrew Sweat (concussion), and made a career-high and team-high 15 tackles. He has pure speed, good instincts and likely will start this week against Michigan, even if Sweat returns. His speed makes him an interesting matchup for Michigan quarterback Denard Robinson, and Shazier could be employed as a "spy" on the junior, a role he's had on other QBs in the past.

Notable stats: He made a career-high 15 tackles last week in his first career start, more than doubling his previous high of seven. ... He was named the Big Ten's freshman of the week on Monday for his game game against Penn State. ... He has 38 tackles and three sacks in his first season.

Quote: "You know, he's got the ability to get to (Robinson). He's got the ability to make a play in space against him, which some players don't." — Ohio State defensive coordinator Jim Heacock


Kyle Meinke covers Michigan football for AnnArbor.com. He can be reached at 734-623-2588, by email at kylemeinke@annarbor.com and followed on Twitter @kmeinke.