Posted on
Tue, May 31, 2011 : 10:35 a.m.
Terrelle Pryor's recruiting decision ends up a good thing for Michigan football
By Michael Rothstein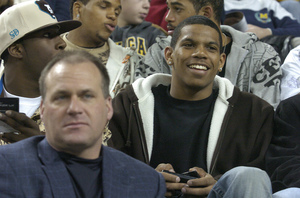 AnnArbor.com file photo
The best and worst day for the Michigan football program over the past five years will end up being the same one.
On March 19, 2008, Terrelle Pryor announced he'd attend Ohio State instead of Michigan or Penn State. In doing so, he ended up damaging two of college football's most historic programs.
It hurt Michigan in the short term. It helped crush Ohio State in the long term.
That will be Pryor's legacy in college football. He turned the fortunes of two coaches on the field and two programs off of it.
By spurning Michigan, Pryor left then-new Michigan coach Rich Rodriguez without his prototypical quarterback.
It had long been said Pryor would be a perfect fit for Rodriguez's spread option offense, a 6-foot-6, 233-pound battering ram who could throw and had enough speed to keep defenses guessing.
Instead, Rodriguez had to start his first season with quarterbacks Nick Sheridan and Steven Threet. A team with enough talent to reach a bowl game with the right quarterback ended up 3-9.
Neither Sheridan nor Threet could successfully run what Rodriguez demanded — mostly because their skill set came nowhere close to Pryor or Denard Robinson or even Tate Forcier.
Under Rodriguez, Michigan never really recovered. The Wolverines started three quarterbacks in three seasons.
It also hurt Michigan and Rodriguez because for those same three seasons, that same quarterback led Ohio State to convincing wins against them, always leaving fans, and probably Rodriguez himself, wondering what-if as the Wolverines cascaded to the worst three-year stretch in modern school history.
The "what-if" portion of this, though, is where Michigan should be thankful Pryor blew off Michigan in 2008. If it had gotten Pryor, it might not have landed Robinson.
Then there's the biggie — all Michigan needs to do is look to Ohio State, where the bottom has fallen out of the Buckeyes program.
Michigan had gone through its own NCAA investigation the past two seasons, although the practice hours investigation Rodriguez went through was a pittance compared to the all-out lack of rules being reported in Columbus.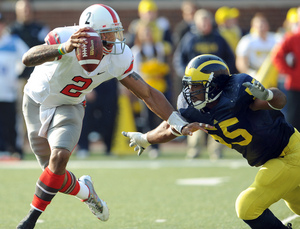 AnnArbor.com file photo
Not all of the blame for Ohio State's impending doom should be placed on the quarterback. But former Ohio State coach Jim Tressel allowed Pryor to essentially run roughshod over the NCAA rules for three years — coincidentally while the biggest on-the-field complaint of the Tressel-Pryor era in Columbus was Tressel didn't let Pryor run enough.
Pryor is a catalyst for Ohio State's downfall.
He was one of five players named during the investigation into the Columbus tattoo parlor and was linked to an investigation into a Columbus auto dealership selling cars to athletes and their families at discount prices.
And now, the Columbus Dispatch is reporting Pryor is being looked at again by the NCAA and the school in connection to yet another, separate investigation into the cars he drove and potential extra benefits.
On the field, Pryor was good, but nowhere near the No. 1 player in the country he was tabbed as coming out of Jeannette, Pa. He hasn't turned into the all-world player Rodriguez desperately wanted as the linchpin to his first recruiting class.
He went to Ohio State instead. That led Michigan to recruit Forcier and ultimately Robinson, who has done more individually and shown more potential than Pryor or Forcier so early in his career.
Pryor spurning Michigan ended up a good thing for the Wolverines. Proof of that came before Tressel's resignation Monday, whenever Robinson took off on one of his runs last season.
That and in denying Michigan, Pryor played a large role in bringing down its biggest rival.
Michael Rothstein covers Michigan sports for AnnArbor.com. He can be reached at (734) 623-2558, by email at michaelrothstein@annarbor.com or follow along on Twitter @mikerothstein.