Oklahoma City T-shirt boy and family will take in Michigan-UMass game this season
Posted on Thu, Aug 23, 2012 : 1:30 p.m.
The Michigan football program will have a rather special guest on Sept. 15.
Michigan athletic director Dave Brandon told AnnArbor.com on Thursday that the program will host five-year-old Cooper Barton and his family when the Wolverines take on Massachusetts at home this season.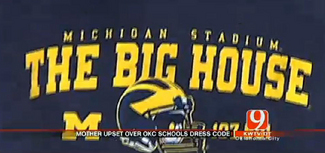 Barton, an elementary school student at Wilson Elementary School in Oklahoma City, was
recently forced to turn his Michigan football T-shirt inside out
due to a violation of the institution's dress code.
On Wednesday, Brandon announced that he planned to invite Barton and his family to a game this season, and also had plans on presenting him with an inside out Wolverines T-shirt.
In addition, Brandon says he'd like to publicly recognize Barton and his family during the UMass home game.
"Maybe the recognition of this will get them to re-think their kind of crazy rule in Oklahoma," Brandon said Wednesday.
Brandon phoned Barton and his family to extend the invite Wednesday, and they gladly accepted.
Oklahoma television station News 9 captured the moment on video.
News9.com - Oklahoma City, OK - News, Weather, Video and Sports |