Posted on
Thu, Oct 14, 2010 : 6 a.m.
A good offense-bad defense combination doesn't prevent college football teams from winning
By Michael Rothstein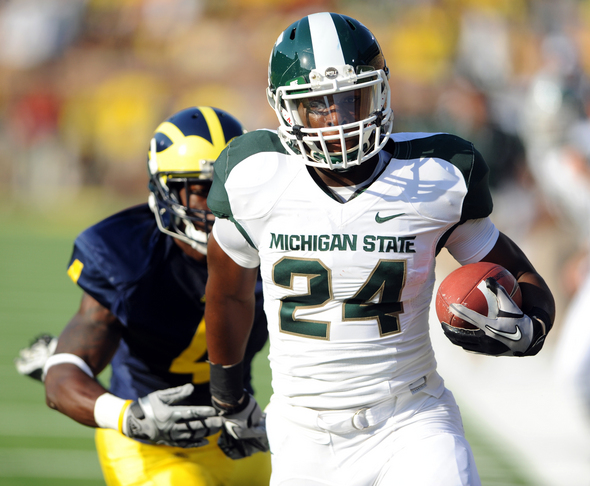 Lon Horwedel | AnnArbor.com
Northwestern quarterback Brett Basanez put together a 16-play, 86-yard drive that culminated in a 25-yard field goal from Joel Howells and a 29-27 lead over Penn State.
Just over two minutes remained in the 2005 game. Basanez thought his team had pulled off the win.
The lead lasted 89 seconds.
"We laid everything out there on offense on that last drive to go down and score and put us up and we figured just shut 'em down, get a turnover, get a stop, whatever and we'll be good," said Basanez, whose team lost to Penn State 34-29 that day. "Then Penn State came back and won, and since then it was like, 'We have to score every time we touch the ball.
"It doesn't matter if we score with 1 minute left, if we get the ball back, we have to score again.'"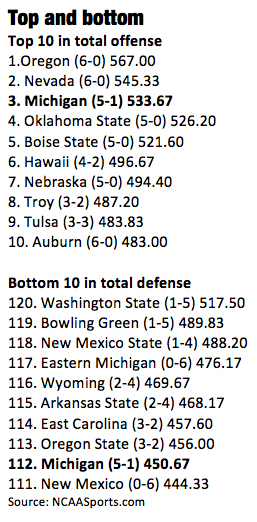 The Northwestern offense averaged 500.33 yards a game that year, fourth-best in the nation. Its defense was one of the worst, allowing 480.42 yards a game and ranked No. 117.
Since 1999, at least one Football Bowl Subdivision team has had an offense in the top 10 and a defense 90th or worse. This season, three of the top 10 offenses in the FBS - Michigan at No. 3, Troy at No. 8 and Tulsa at No. 9 - are among the bottom 30 defenses.
None is worse than Michigan, which is 112th in total defense after six games and stands 5-1 overall, 1-1 in the Big Ten Conference entering Saturday's 3:30 p.m. game against No. 15 Iowa (4-1, 1-0).
What happens when a team has a top-tier offense paired with a bottom-level defense - and what it really means - is a convoluted equation.
After all, five players from Northwestern's beleaguered 2005 defense eventually made the NFL.
It's tough on younger players
Michigan's defensive struggles have been blamed on youth as seven true freshmen have played defense this season. That's tough to overcome, most coaches agree.
While offensive skill players are able to quickly transition from high school to college, the strength factor is steeper on defense, coaches say.
"Defense is so much more physical. Kids come out of high school and they are 17, 18 years old and they are two good off-seasons away from being physical enough to play on defense," said McMurry coach Hal Mumme, who was at New Mexico State when it was No. 3 in total offense and No. 99 in defense in 2006. "It's harder on defense than on offense.
"… I'd rather have the less-talented upperclassmen any day because … they've already been coached and will eat up what you ask them to. If you're able to build to those kids, they are the kids that you recruited and they've been playing for you for three or four years, that's a good thing."
At Troy and Michigan, the depth is an issue - especially in the secondary. Injuries hurt Troy. Michigan was hit with injuries, defections and recruits unable to be admitted.
"With the younger guys playing and not anticipating that many having to play," Michigan coach Rich Rodriguez said, "that probably stunted the growth a little bit more than we wanted it to."
Coaches, players, don't talk about it In 2005 at Northwestern, Basanez said coaches never said the Wildcats' defense wasn't good. During their 7-5 year, they focused on offensive production and quality.
But the players always knew.
"You just get so frustrated that you have to keep yourself from saying, 'You guys are screwing this up,'" Basanez said. "When in reality it is the whole team. So the senior leadership was really good on that squad, Zach Strief and myself on the offense had to say 'OK, they are trying. We just have to score every time we touch the ball.' "But I'd be lying to you if I said it didn't wear on me or piss me off."
If the coaches had acknowledged the defensive deficiencies, Basanez said, it would have caused a rift in the locker room. And no coach - or team - wants that.
Because at the end of the day it's about one thing - winning. And defensive problems usually aren't a question of effort. It's a matter of youth, of talent, of coaching reputation as an offensive or defensive mind, of recruiting and in some cases, of scheme.
"Everybody feels our pain," Rodriguez said. "For our guys, its not a lack of effort or lack of focus. It is, some of it is fundamentals, but a lot of it is execution. So it's some things we know we're going to get fixed.
"I'm just hoping we're going to get it fixed in a hurry."
Teams can give up yards and still win The thing that stands out about big-yardage defenses is the overall team success.
Of the 32 schools that finished seasons as a top 10 offense and No. 90 or lower in defense from 1999-2009, just nine finished with losing records. Stanford, which had the No. 5 total offense (467.09 yards) and No. 110 defense (452.8) in 1999 went to the Rose Bowl under Tyrone Willingham. Six teams - BYU in 2001, Hawaii in 2006, Tulsa in 2007, Rice and Missouri in 2008 and Houston last year - had 10-plus win seasons despite the differential.
So are yardage numbers overrated?
"Yes, very much so," said June Jones, head coach at SMU and known for his high-scoring offenses. "The game has changed. It's not like years ago when you could physically beat everybody and play offense to keep from losing. It's kind of how everybody used to play, play very conservatively to not lose the game and try to win the game on defense."
Instead, Jones said it is about forcing turnovers. The more forced, the more opportunity the offense has to score points.
The yardage gains also mirrors the evolution of the spread. Even when Basanez played at Northwestern in 2005, he said he felt the Wildcats' offense didn't help the defense in practice because the spread offense they ran was different than most of the I-formation, power teams in the Big Ten.
The spread has made this era of college football about offense.
"The grasp and depth of the offensive strategies now are really challenging players in those areas where you've got to defend the passing game," Troy coach Larry Blakeney said. "Then you overdo it, and you don't have enough to compensate for the gaps in the running game.
"So it's sort of a guessing game. But certainly you're on to the culture of college football right now across the board."
Just the facts Since 1999, 35 teams that had an offense that finished in the top 10 defenses No. 90 or lower in the Football Bowl Subdivision. Nine of them finished the year under .500
1999 Georgia Tech (8-4) No. 1 total offense (509.36), No. 100 total defense (413.80) Nevada (3-8) No. 2 total offense (471.92), No. 112 total defense (470.2) Stanford (8-4) No. 5 total offense (467.09), No. 110 total defense (452.8)
2000 Tulane (6-5) No. 7 total offense (453.55), No. 104 total defense (436.73) Idaho (5-6) No. 8 total offense (453.18), No. 105 total defense (437.64)
2001 BYU (12-1) No. 1 total offense (542.85), No. 102 total defense (448.54) Idaho (1-10) No. 6 total offense (464.82), No. 110 total defense (478.55) Hawaii (9-3) No. 7 total offense (462.67), No. 94 total defense (431.67) Nevada (3-8) No. 9 total offense (453.91), No. 114 total defense (494.82)
2002 Illinois (5-7) No. 10 total offense (446.33), No. 98 total defense (420.50)
2003 Texas Tech (8-5) No. 1 total offense (582.77), No. 106 total defense (453.38) Louisville (9-4) No. 5 total offense (488.85), No. 93 total defense (428.62)
2004 Memphis (8-4) No. 9 total offense (460.33), No. 90 total defense (417.75)
2005 Arizona State (7-5) No. 2 total offense (519.08), No. 114 total defense (468.75) Northwestern (7-5) No. 4 total offense (500.33), No. 117 total defense (480.42) Minnesota (7-5) No. 7 total offense (494.75), No. 90 total defense (412.67) Washington State (4-8) No. 8 total offense (489.27), No. 106 total defense (442.64)
2006 Hawaii (11-3) No. 1 total offense (559.21), No. 93 total defense (377.79) New Mexico State (4-8) No. 3 total offense (475.17), No. 99 total defense (389.42)
2007 Tulsa (10-4) No. 1 total offense (543.93), No. 108 total defense (451.86) Oklahoma State (7-6) No. 7 total offense (486.31), No. 101 total defense (443.00) Nebraska (5-7) No. 9 total offense (468.25), No. 112 total defense (476.83)
2008 Houston (8-5) No. 2 total offense (562.77), No. 100 total defense (413.46) Nevada (7-6) No. 5 total offense (508.54), No. 91 total defense (400.23) Oklahoma State (9-4) No. 6 total offense (487.69), No. 93 total defense (405.54) Missouri (10-4) No. 8 total offense (484.14), No. 98 total defense (411.50) Rice (10-3) No. 10 total offense (470.92), No. 111 total defense (452.23)
2009 Houston (10-4) No. 1 total offense (563.36), No. 111 total defense (451.29) Nevada (8-5) No. 2 total offense (505.62), No. 96 total defense (409.31) Troy (9-4) No. 3 total offense (485.69), No. 104 total defense (424.54) Texas A&M (6-7) No. 5 total offense (465.77), No. 105 total defense (426.31) Idaho (8-5) No. 9 total offense (451.38), No. 107 total defense (433.23)
2010 Michigan (5-1) No. 3 total offense (533.67), No. 112 total defense (450.67) Troy (3-2) No. 8 total offense (487..20), No. 92 total defense (408.60) Tulsa (3-3) No. 9 total offense (483.83), No. 102 total defense (429.33)
Michael Rothstein covers University of Michigan basketball for AnnArbor.com. He can be reached at (734) 623-2558, by e-mail at michaelrothstein@annarbor.com or follow along on Twitter @mikerothstein