Posted on
Thu, Sep 30, 2010 : 6:01 a.m.
One year later, the Michigan-Indiana football game has a familiar feel
By Pete Bigelow
The high-flying offenses are the same. The undefeated records are the same. So are the suspect defenses.
Is Saturday's game between the Michigan football team and Indiana a repeat of last year's matchup?
The Wolverines rallied for a 36-33 victory in last year's barnburner. Hoosiers coach Bill Lynch thinks his opponent is even more daunting this time around (Saturday, 3:30 p.m., ESPNU) because of quarterbacks Denard Robinson, Tate Forcier and Devin Gardner.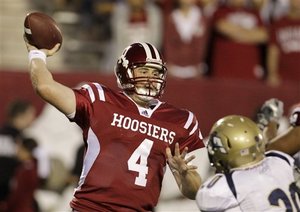 Associated Press
"Last game, a Heisman guy goes out, and they bring in the next two and it doesn't slow down a bit," Lynch said of Michigan's three-headed quarterback rotation against Bowling Green.
Not only haven't the Wolverines (4-0) slowed down, they've sped up.
Through the first four games of the 2009 season, Michigan's offense averaged 37.5 points per game and 422.2 yards per game. In 2010, it's 41.2 points per game and 562.8 yards.
Through the first four games of 2009, Michigan scored touchdowns on 67 percent of its red-zone trips. In 2010, they're red hot, scoring TDs 89 percent of the time from inside the 20-yard line. Michigan's current third-down conversion percentage of 57.4 is third-best in the country.
"This year, the team is executing pretty well," Michigan coach Rich Rodriguez said. "Not that we don't have some issues. We do. We're not completely where we want to be, not close to where we're going to be eventually."
The lingering issues remain on defense for the Wolverines.
Last year, the defense allowed 22.8 points per game through four games. This year, it's 23.0. That's not as much a concern as the 400 yards per game the 2010 defense is allowing.
Eight true freshmen have played for the Wolverines defense, including five in the secondary, so Rodriguez expected some degree of struggle.
"We're not deep enough or strong enough to dominate somebody, and hold them to seven first down and three points," he said. "But that's the goal. … They've had some tough moments this season, but also a lot of good moments."
The secondary will have its hands full against Indiana quarterback Ben Chappell, the Big Ten's leading passer in 2009 who again leads the conference with an average of 296.7 passing yards through three games.
Overall, Indiana has the second-ranked scoring offense in the Big Ten, averaging 41.3 points per game.
"I think we've been efficient," Lynch said. "We haven't turned the ball over much, and that's huge. That goes to Ben being a real good decision-maker."
Lynch said he felt like the Hoosiers (3-0) enter the matchup as a better team than last year.
"But I think they are too," he said. "That's the one thing that happens. We know more about our team now … we're a more mature team. … But now everything changes."
Pete Bigelow can be reached at (734) 623-2556 or e-mailed at petebigelow@annarbor.com. Follow him on Twitter @PeterCBigelow.