Q&A:

Athletic director Dave Brandon sees growth potential at Michigan

Posted on Sun, May 29, 2011 : 5:58 a.m.
CHICAGO — Michigan athletic director Dave Brandon took over his current job in March 2010 with a football program under investigation, a major stadium renovation in the final stages of construction and a basketball program struggling.
Since then, Brandon has changed the football staff, started pushing forward renovations on Crisler Arena and added two new sports for the school: men's and women's lacrosse.
In a one-on-one sit-down interview with AnnArbor.com at the Big Ten spring meetings in Chicago last week, Brandon spoke about his first year and his vision for the future of Michigan sports.
This is part of that conversation.
Q: This past year has been a little more tumultuous than most first-year ADs. Has it been everything you've thought? A little more than you thought?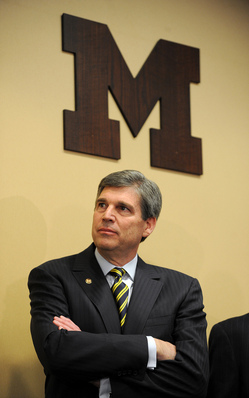 AnnArbor.com file photo
Dave Brandon: "I don't think of the word tumultuous. I think of the word intense. It was incredibly busy, between the NCAA investigation and opening up the new stadium and the Big Chill and expanding the Big Ten conference and rescheduling the 2011 and 2012 seasons, dedicating the new soccer stadium and getting ready the new renovation of Crisler and we're working hard on Yost and we're working hard on a business model to expand into the lacrosse business for both men's and women's. And then the coaching change, which was pretty intense. When you add it all up and put it in a 12-month period. ... Not tumultuous. But busy and intense and fast-paced. Certainly traveled a lot of roads over a short period of time."
Q: Now that a lot of that is complete, have you been able to step back and take a breath and thought this is what I wanted to do in the first year and what I want to do going forward?
DB: "Yeah, the only thing that got a little delayed was the whole strategic planning process because it had been quite some time since we've really gone through a planning process for Michigan athletics. Years. I'm one of those leaders who works best when there's structure and a plan and goals and objectives. Things got going, moving so fast last year, that we really didn't have a chance to get through that process. We recently had a retreat with my leadership team and moved the ball way down the field in terms of looking at mission and guiding principles and a format for strategic planning. We met with our coaches, with our rising talent leadership group and in a couple weeks we'll be in a room with the entire department finalizing that process. That's one of the things that probably could have been, would have been better done a little earlier. But all these other issues got in the way. But other than that, I'm feeling good about the situation we're in. We just completed our budget for the new year and will be presenting that very soon to the Regents. And all is well."
Q: When you look at what you want to do now, you anticipated some of these things stepping into the door, between the investigation and the stadium and all that. What is it, now that you're here for a year, that you want to get done?
DB: "Well, the first thing is I want to grow and grow in every way. I want to grow in facilities, want to grow in the number of student athletes that we have participating in Michigan athletics. I want to grow the number of sports that we offer. I want to grow the crowds that we bring to our venues. I want to grow our revenue streams to afford us the ability to reinvest in the program. So growth is a real part of what I want to accomplish.
"The second thing I want to do is really work on building this brand. It is a global brand and we're in a strong position to help the university by really positioning that brand as pre-eminent and leadership oriented. And through some of our new marketing initiatives and the new marketing organization that we put together, we have a lot of strategies in place to really help drive that brand. In the aftermath of an NCAA investigation and three disappointing years in football, which is kind of our lead program, we have a lot of work to do to really bring our brand back to where we want it to be in terms of preeminence nationally.
"The third thing I really want to do is try to get more innovative and really leverage technology and come up with more creative ways to enhance the fan experience at our venues and get us a little more in the forefront of the changing world out there in terms of college athletics. We had been a little bit too wedded to the past in terms of our traditions and here's the way we always do things. I'm kind of a 'change is good' guy and what we're really trying to do as a team is look at how can we innovate; not dilute the importance of our traditions, but be open-minded in new ways of doing things.
"And the last thing you do in any organization is you work hard on talent and culture. That's extremely important that we work hard and do a great job to get the best student-athletes, the best coaches, the best team members that work at the department. We're doing a lot of work at trying to come up with ways to really import the best talent we can find, identify the internal candidates who can do bigger things and really put ourselves in a position where we've got the talent, the energy to accomplish some very important things. So you think about grow, build the brand, innovate and leverage technology and talent/culture. Those are the things we're focused on."
Q: When you look at growing, where specifically? What needs to get exponentially bigger?
DB: "Basketball. Men's and women's basketball. Part of the $97 million total investment in Crisler is to put ourselves, from a facility perspective, where we can recruit more effectively, bring in greater talent. These young recruits have a lot of choices, the great players have a lot of choices and they look long and hard at the quality of the environment they'll be competing in and Crisler was just inadequate. So this investment in the facility and the investment in marketing we're going to put forth to really try to create a brand new energy, a brand new sense of importance with our basketball program.
"Connect better with our student body, get more fans in the seats and create the same level of excitement we enjoy with football, that's a huge upside opportunity for our athletic department. Furthermore, we have a lot of sports that spectators love. Volleyball, women's gymnastics continues to do well, our tennis programs, our golf programs, these are programs that are being invited on the national level to compete and we need to showcase them better. We need to make them more visible and get people to connect with them in every way, so there's a lot of upside."
Q: Some of those sports, there's only one or two programs nationally, like gymnastics or golf, that draws people? How do you go about that?
DB: "It's marketing. It's really communicating that excitement. There was a student who sent me an email as he was leaving the campus and was graduating. He indicated that his objective during his four years at Michigan was to attend at least one of every sporting event we offer and we have 27 sports (Eds. note: Now 29, with the addition of lacrosse) we offer. I thought, what an incredibly terrific goal for a student to have, to come and sample. He indicated to me he had no idea how exciting and fun some of these sports were because he hadn't gone to see them. Our job, in a marketing sense, is called sampling. Our job is to get people to come just once to witness a soccer game in our new stadium or a gymnastics meet or wrestling meet or golf competition. Just come once and you'll be wowed by the quality of the competition, how terrific our student-athletes are and how fun it is to follow those teams. So a lot of that will be leveraging technology and getting people connected. But a lot of it will just be pure marketing tactics."
Q: You mention staffing. Since you took over there has been a lot of new people, from promoting Brian (Townsend) to moving people to other people leaving. Is that something you anticipated or more than you thought?
DB: "I didn't have any preconceived notions. You come in and you do assessments and you find out where there is energy in the organization and where there isn't and where there is opportunity and where there isn't. I came in and listened and learned and got pretty familiar where I felt where we were doing things well and where I felt we needed additional help and focus and in the process I've set a new expectation in terms of work ethic and in terms of the way we approach our work and the expectations for the performance we need to produce. And in some cases that wasn't consistent with what people were prepared to do or comfortable doing and if that's the case, it's a good moment for them to move on.
"It's been a combination of a number of factors. Whenever you bring in a new leader, you're going to have a certain amount of change and some of that's happened. But it's healthy and it gives me a chance to bring in some people that will buy in 100 percent to some of the initiatives and strategic directions that I want to take with the department."
.