Posted on
Fri, Sep 17, 2010 : 10:50 a.m.
Parity in college football makes upsets commonplace, blurs FBS and FCS distinction
By Pete Bigelow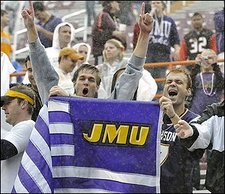 AP Photo | Don Petersen
In the season's first week, Jacksonville State claimed headlines with an upset of Ole Miss. In week two, James Madison stunned No. 13 Virginia Tech.
Those are the highlights, but they're not the only wins Football Championship Subdivision teams have over their more prominent counterparts in 2010.
David is beating Goliath more often these days.
"I'm not sure there are upsets in college football anymore," Indiana coach Bill Lynch said.
The FCS, formerly known as Division I-AA, already has six wins against Football Bowl Subdivision opponents this year. Two weeks into the season, that surpasses last year's total of four.
"You see it more now in the last couple of years than ever because of parity in college football," said Michigan coach Rich Rodriguez, invoking a word usually reserved for sizing up NFL competition.
Rodriguez and his Michigan football team face UMass this Saturday in Ann Arbor. UMass is a member of the Colonial Athletic Association, which has a 28-117 record against Division I-A competitors.
He believes the reduction in Division I-A scholarships to 85, the advent of recruiting services and the increased emphasis on facilities and strength and conditioning all have helped flatten the field.
"To think that only the good players go to only the so-called elite schools, that doesn't happen," he said.
Players can get noticed anywhere. In 2010, NFL teams drafted 16 players from FCS schools, along with five more from Division II football teams.
Michigan is no stranger to potential juggernauts at the FCS level.
In 2007, Appalachian State defeated the No. 5 Wolverines, 34-32, in the Big House, becoming the first FCS school to ever beat a ranked FBS team. At the time, it had all the shocked-the-world drama of a Hollywood script. In retrospect, it was the FCS's Fort Sumter shot at the rest of college football.
Pete Bigelow can be reached at (734) 623-2556 or e-mailed at petebigelow@annarbor.com. Follow him on Twitter @PeterCBigelow.