Posted on
Wed, Oct 27, 2010 : 1:12 p.m.
Penn State quarterback Matt McGloin moves out of the shadows, into the spotlight for Nittany Lions
By Jeff Arnold
Matt McGloin is used to hearing his name butchered.
Culprits include radio broadcasters, television and newspaper reporters and others. They all struggle to properly pronounce the Penn State reserve quarterback's name.
Even Nittany Lions coach Joe Paterno admitted Tuesday that he, too, is guilty of "killing his name," forcing the 83-year-old coach to refer to the former walk-on simply as "Mac."
That hasn't kept McGloin (pronounced Mc-gloyne) from receiving plenty of attention this week as Penn State's potential starter for the Nittany Lions' prime time test Saturday with Michigan (8 p.m., ESPN).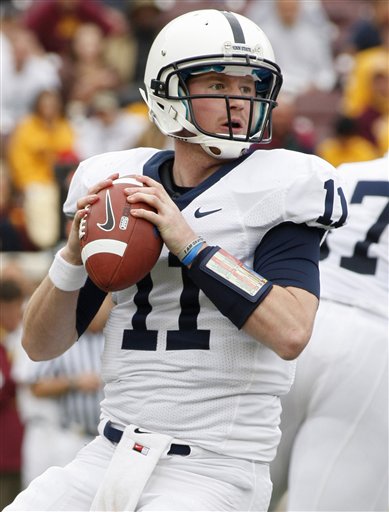 Associated Press
In the past week, McGloin has gone from Penn State's third-string option to emergency starter, helping lead the Nittany Lions to a 33-21 road victory over Minnesota. The sophomore threw two touchdowns in relief of starter Robert Bolden, who left the game with a head injury.
Two days earlier, back-up Kevin Newsome was sidelined with the stomach flu. Enter McGloin, who quickly gained the confidence of his teammates, providing Penn State (4-2 overall, 1-2 Big Ten) with its first conference victory after losses to Illinois and Iowa.
Now, the confident back-up may make his first collegiate start under the lights, finally providing the opportunity for a kid who always believed he was good enough to belong at Penn State.
"You're probably going to be a little nervous, but at the same time, you have to know that you are prepared," McGloin said Wednesday in a conference call with reporters. "You just have to get ready to play the game and remember how fun it is."
McGloin spent the off-season in a three-quarterback race for Penn State's starting job. After playing sparingly behind All-Big Ten performer Daryll Clark last season, the former Pennsylvania all-state quarterback ended up third on the depth chart this fall as Bolden, a true freshman from suburban Detroit, earned the job.
All along, though, McGloin knew if anything happened to either Bolden or Newsome, he would take a step closer to the field. But after completing six of 13 passes for two touchdowns against Minnesota, McGloin has split first-team snaps with Newsome this week.
Paterno said Tuesday that Bolden was feeling lingering effects of a head injury and "probably wouldn't make it" for Saturday's game. Paterno didn't indicate whether he was leaning toward Bolden or Newsome.
McGloin said he learned from last week's win when he followed up one of his two touchdown passes with an interception.
"You can't go into the game saying, 'Maybe we will win this one,'" he said. "You have to go in expecting that we're going to win. In that huddle, you have to be confident, you have to look in the eyes of your linemen and players around you and they have to know that you know that we're going to win this game and we're going to do well because it effects how they play."
Michigan coach Rich Rodriguez said Monday he doesn't expect who starts for Penn State to change how his defense plays. While Bolden presents a challenge as a running quarterback, Rodriguez says who engineers the offense doesn't necessarily change what the Nittany Lions do offensively.
McGloin said Wednesday it will be critical for the Nittany Lions to either strike quickly or sustain drives - a tactic Iowa employed in its 38-28 win over the Wolverines (5-2, 1-2) two weeks ago.
While Michigan's defense has struggled to keep opposing offenses in check, McGloin knows he, too, has his doubters. Coming out of West Scranton (Pa.) High School, McGloin had a handful of Division 1-A offers, getting the majority of looks for 1-AA Patriot League schools.
But now, in the spotlight, he cherishes his role as underdog.
"You use it as motivation when people don't think you can play," McGloin said. "It's just another reason for you to go out there. I don't need to prove myself. I just go out there and play my game and when people (doubt me), I just use that as motivation to go out and work harder and will get me better prepared for Saturday.
"So the people that say that, thank you."
Jeff Arnold covers sports for AnnArbor.com and can be reached at (734) 623-2554 or by e-mail at jeffarnold@annarbor.com. Follow him on Twitter @jeffreyparnold.