Posted on
Fri, Apr 23, 2010 : 12:17 a.m.
Brandon Graham surprised, excited the Eagles drafted him 13th overall
By Dave Birkett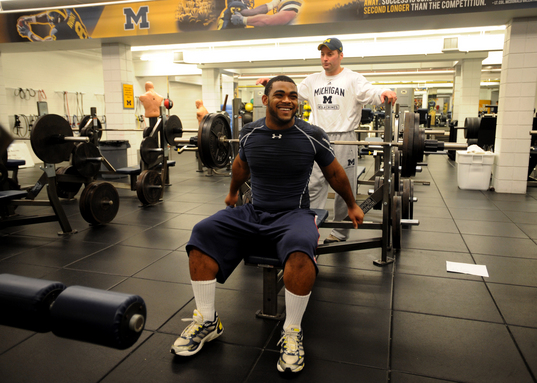 BIRMINGHAM - By 10 p.m. Thursday, about an hour after the Philadelphia Eagles made him the 13th pick of the NFL draft, Brandon Graham had 206 unopened text messages and a voice mailbox full of unanswered phone calls.
"I'll get to them tomorrow," Graham said in the lobby of the Townsend Hotel in Birmingham, where he hosted a draft party for about 30 family members and friends. "Maybe."
The Eagles traded up 11 spots in the first round, swapping two third-round picks and their own first-rounder with Denver, to make Graham the pass-rushing left end they'll build their defense around.
Graham said he was shocked the Eagles took him. He visited five teams and worked out privately for three others in the weeks leading up to the draft, but had only one 15-minute conversation with Philadelphia scouts at the NFL combine in February.
"The Eagles never showed any interest at all," Graham said. "I knew it was going to be like that. I knew it was going to be a team that I didn't even expect."
Graham said his agent, Joel Segal, called minutes before the pick was official to let him know Philadelphia's plans. When he talked to Eagles coach Andy Reid, general manager Howie Roseman and assistant coaches Sean McDermott and Rory Segrest a short while later, Graham was overcome with excitement.
"I was just like a bomb just went off," he said. "Like, 'Dang, boy. It's happening. It's here.'"
Reid, in a press conference Thursday night, said the Eagles were intent on bettering their pass rush and Graham "was the best defensive lineman out there to help us out."
"The thing we liked about Brandon was he's a relentless player," Reid said. "The thing I know with good defensive linemen is it makes everybody around them better. So, when you have a defensive line that's getting after it, all of a sudden the corners look a little better and the safeties look a little better and the linebackers look a little better. That's why we made this move." Graham, who Reid compared to former Eagles defensive end Hugh Douglas, was one of the few bright spots in Michigan's 5-7 season last year.
He led the nation with 26 tackles for loss, won the Chicago Tribune's Silver Football Award as Big Ten MVP and solidified his stock as a first-round pick with a dominant showing at the Senior Bowl in January.
Reid said Graham's Senior Bowl performance and a two-sack, nine-tackle game against Iowa left tackle Bryan Bulaga, the 23rd overall pick in the draft by the Green Bay Packers, helped set him apart as a pass rusher.
"I put a lot of value in guys that love to play the game and play relentless football and that have the character," he said. "I thought he kind of filled all those spots. I also like defensive linemen that can do a good job of playing and making plays on the other side of the line of scrimmage. There weren't a lot of them that were better in college football than this kid."
Graham said that won't change now that he's in the NFL.
He's scheduled to fly to Philadelphia at 10:15 a.m. today for an introductory press conference and to see the organization. The expectation, he said, is to start as a rookie opposite Pro Bowl right end Trent Cole and help the Eagles get back to the playoffs.
"I'm stepping into some big shoes," Graham said. "Just from the pass rushers they had in the past, they want me to surpass everybody. They want me to be the next best thing. They want me to be that guy that they talk about.
"I'm going to a real decent team that can really compete next year. I'm just hyped because I'm about to go in there and try to do my thing."
Dave Birkett covers University of Michigan football for AnnArbor.com. He can be reached by phone at 734-623-2552 or by e-mail at davidbirkett@annarbor.com. Follow him on Twitter @davebirkett.