Posted on
Sun, Aug 12, 2012 : 6:25 p.m.
Players and kids all smiles at youth-focused football fan day at Michigan Stadium
By Pete Cunningham
Reporters and photographers weren't the only ones with access to the Michigan football team on Sunday. After granting interviews during the team's annual media day, players and coaches made their way to Michigan Stadium where even players buried on the depth chart were rock stars in the eyes of adoring young fans.
From 2-3:30 p.m., fans roamed around the Big House and took part in a variety of activities as players and coach Brady Hoke signed autographs during youth fan day.
Seven-year old Matthew Smith was excited for the face paint while his younger sister, Grace, 4, - in her pink Denard Robinson jersey - wanted to meet the cheerleaders.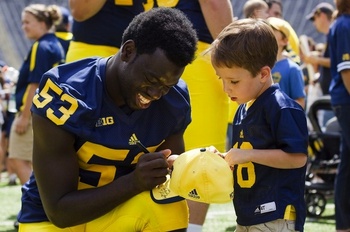 Their father,
Brian Smith
, came to the team's used apparel garage sale earlier in the day at the Indoor Track Building, so all were decked out in their Michigan gear. The Smiths camped out in front of Michigan Stadium just after noon so they could be first through the gates.
Others waited in the parking lot; like the Jameson family, from Sylvania, Ohio, who ate lunch on the tailgate of the family truck anxiously awaiting the opening of the stadium gates.
"I like Brady Hoke," said 12-year-old Alexis Jameson.
Hoke's was the autograph Jameson wanted most and she wasn't alone. With far stretching lines with lengthy wait times, Hoke and Robinson's were unsurprisingly the most coveted of autographs.
Alexis' father, Chris Jameson, a season ticket holder since 2000, learned his lesson long ago about autograph lines, so he only seeks the signatures of freshmen players.
"By the time the lines are long for (the current freshmen), we already have their autographs," Jameson said.
Jeffrey Smith | AnnArbor.com
That strategy didn't work as well this year as freshmen players roamed the field among the children who didn't care who was signing their hat, poster or ball as long as he had a blue jersey on.
Dennis Ledesma, 6, of St. Johns used his time wisely and waited in line for a go at the inflatable obstacle course on the field rather than an autograph.
More on-field activities, such as the players mingling, the inflatable obstacle course, performances by the dance and cheerleading teams, and face painting were added to this year's fan day in order to emphasize connecting young fans with the team.
Fans didn't get much younger than four-month-old Molly Moses, of Maumee, Ohio who was one of 200 young fans to win a random draw to meet coach Hoke before the autograph lines formed.
"My daughter entered her in the drawing and what do you know it, she won!" said Shirley Downs, Molly's grandmother. "I like everything about (fan day)."
Pete Cunningham covers sports for AnnArbor.com. He can be reached at petercunningham@annarbor.com. Follow him on Twitter @petcunningham.