Posted on
Thu, Oct 27, 2011 : 5:59 a.m.
Position change leads to improved play from Will Heininger, better production from Michigan's defensive line
By Kyle Meinke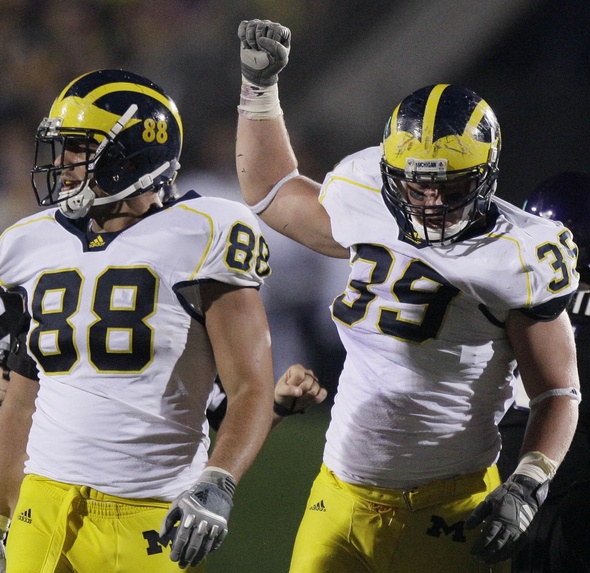 AP Photo
Will Heininger
was supposed to play baseball at Michigan.
The Ann Arbor native was a standout pitcher and outfielder at Pioneer High School, and he was slated to play for the Wolverines upon his arrival in college.
But as fall approached, Heininger decided to switch his commitment and walk on to the Michigan football program as a defensive lineman — despite weighing just 220 pounds.
How was he received? With an assignment to match up every day in practice with Jake Long, a 317-pound All-American offensive tackle and future No. 1 NFL draft pick.
Did he ever stand a chance?
"(Fellow freshman Ryan Van Bergen and I) still celebrate our, like, three wins of the season that we had against him," Heininger said Tuesday after practice. "But, that's where I learned leverage, that year playing on scout team against him every day. … Even when you get stronger, you remind yourself to stay low."
THURSDAY LIVE CHAT
Come back to AnnArbor.com at noon Thursday for a live chat with Kyle Meinke. He'll discuss news that emerged during Michigan's off week and preview the game against Purdue on Saturday.
Heininger has turned those lessons into an unlikely success story as No. 17 Michigan (6-1, 2-1 Big Ten) prepares to face
Purdue
(4-3, 2-1) at noon Saturday on ESPN2.
He played exclusively on special teams as a freshman. As a sophomore, he started to crack the rotation, recording 10 tackles in seven appearances as a reserve on the defensive line.
But just as he was expected to play an expanded role as a junior, Heininger tore his ACL. He played just three games last year, recording three tackles.
This year, though, Heininger has come back healthy, continued to put on weight -- he's at 295 pounds -- and fine-tuned his fundamentals. In return, he is a regular contributor on Michigan's resurgent defense.
Heininger has started each of Michigan's seven games this year and recorded 14 tackles, a career high. He had a career-high four tackles in Michigan's last game against Michigan State and was one of only two players to be mentioned by coach Brady Hoke as guys who played well in the 28-14 loss.
"It's all been technique, as far as I'm concerned," defensive coordinator Greg Mattison said this week. "He's always been a big, strong guy ... but I've seen him buy into what we're trying to do and, because of his confidence in his technique, it's allowed him to use his strength to become a much better football player."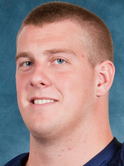 Heininger hasn't always played great, but he's been consistently good in recent weeks since making a position change.
He began the year slotted at the weak-side defensive end position, where he split time with walk-on Nathan Brink. After the Notre Dame game in Week 2, though, he was moved inside and Van Bergen slid outside.
It's a win-win for everyone, as Heininger is versatile enough to play inside and Van Bergen is more comfortable outside.
"I've played there in the past, so it's pretty much the same," Heininger said. "Defensive line is reading your key, getting off blocks, using your hands. It's not too big a difference."
The move has worked out well for the Wolverines, who have undergone a defensive renaissance this season. They are allowing just 14.7 points (eighth nationally) and 336.0 yards per game a year after yielding 35.2 points and 450.8 yards per game last year. Improved play from the defensive line has been a big part of that.
Heininger credits the rapid improvement up front to better coaching. He said the biggest difference is the linemen are being taught "tips," which are clues that help a defender anticipate an offensive lineman's move.
One thing that has helped Heininger is a lesson he learned from those beatings suffered at the hands of Long: Stay low.
"If I was lower than him, I had a chance, and he even told me that," Heininger said. "For as strong as he was and as weak as I was, it's always about leverage and your hands."
That used to be a challenge for Heininger, who stands 6-foot-6. Now, though, Mattison said staying low has been Heininger's greatest improvement this year.
"They've got to be able to punch," Mattison said. "He's starting to do that now."
Kyle Meinke covers Michigan football for AnnArbor.com. He can be reached at 734-623-2588, by email at kylemeinke@annarbor.com and followed on Twitter @kmeinke.