Posted on
Fri, Jan 13, 2012 : 7:57 p.m.
Denard Robinson, J.T. Floyd 'have unfinished business' to address at Michigan
By Kyle Meinke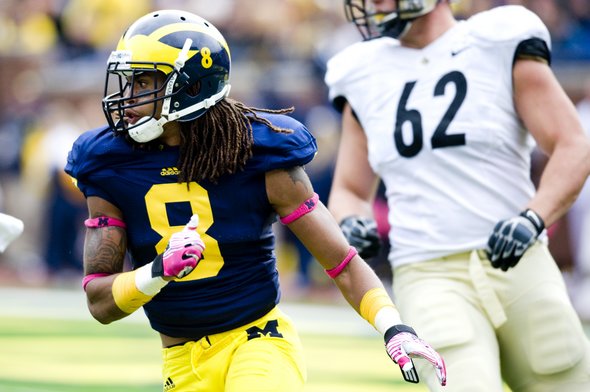 Joseph Tobianski | AnnArbor.com
Mike Martin is glad quarterback Denard Robinson and cornerback J.T. Floyd elected to return to the Michigan football team because they can take care of what he never could.
Beat Michigan State and win a Big Ten championship.
"Those guys, they have unfinished business," Martin said in an interview Friday. "I wish I could be a part of it, but I was a part of taking a huge step closer to it and they just got to tie up the loose ends -- and that's something they want to do, and know they have to do.
"They're not going to let us down, and I think Coach (Brady) Hoke is going to have a hell of a second season at Michigan."
The Wolverines announced Friday afternoon that Robinson and Floyd, juniors who were having their pro stock evaluated by the NFL Draft advisory board, will return next year.
The board's feedback is not made public, but it's likely neither Robinson nor Floyd received high-round grades.
Robinson rushed for 1,176 yards and 16 touchdowns last year to help lead Michigan to an 11-2 record and Sugar Bowl win against Virginia Tech. By returning, he could be primed to set the Big Ten and NCAA all-time quarterback rushing records.
However, the senior-to-be has yet to find consistency in the passing game. He finished 142-of-258 passing for 2,173 yards and 20 touchdowns last season. He threw 15 interceptions, sixth most in the country.
There clearly is room for improvement, especially considering Robinson remains steadfast in his desire to become a quarterback at the next level.
For that reason, Martin and fellow outgoing captain Kevin Koger said Robinson never was close to leaving school.
"He may have considered leaving, but I always had the feeling he was going to stay," Koger added. "It doesn't surprise me that he came back. Not at all. It would have surprised me if he left."
Koger and Martin also said Floyd made the right call in holding off on the NFL for another year. The cornerback had 48 tackles, eight pass breakups and two interceptions last year.
"He had a pretty good season this year, but he has so much room to improve and get better," Martin said. "He dodged the injury bullet a lot better this year. I'm happy for him on that. If he stays healthy, he's going to have a great season."
Koger is expected to play in the East-West Shrine Game on Jan. 21.
Martin will play in the Senior Bowl on Jan. 28, then participate in the NFL Combine from Feb. 22-28. Center David Molk is expected to join him at the combine.
Michigan's pro day will be held on campus March 15.
Kyle Meinke covers Michigan football for AnnArbor.com. He can be reached at 734-623-2588, by email at kylemeinke@annarbor.com and followed on Twitter @kmeinke.