Posted on
Sat, Nov 19, 2011 : 6 p.m.
Power outage at Michigan stadiums equals big losses for fundraising groups
By Pete Cunningham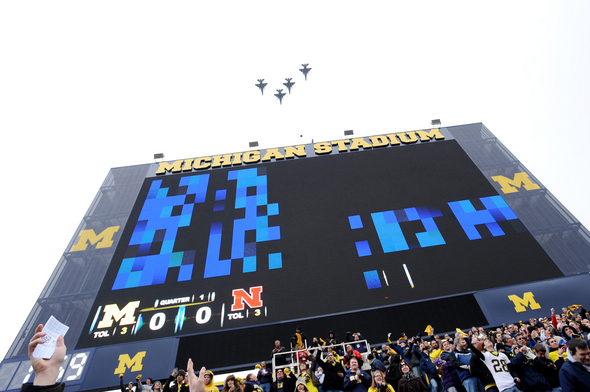 Melanie Maxwell | AnnArbor.com
Several fundraisers took a big hit on Saturday when power outages inside Michigan Stadium left several concessions stands without electricity.
Without the ability to heat food or beverages, dispense soda, complete electronic transactions from machines or in some cases even turn on their lights, many concession stands were rendered useless.
Fans lost a feel good moment when Lloyd Carr's tribute video couldn't be shown due to the power issues, and the Michigan football team lost 5 yards on a delay of game penalty after some confusion with the play clock.
But the organizations staffing the concession stands lost money.
The organizations that staff the concession stands earn 9 percent of whatever sales they make on game days. For those few that didn't have any power the entire game, like the Hartland High School stand under Section 18 on the south west end of the stadium, the effects were enormous.
"Unfortunately, we had to turn away many customers today because we didn't have soda, we didn't have hot chocolate, coffee, and we couldn't take credit cards," said one man at the Harland High School concession stand, who asked not to be identified.
He said many customers saw that their lights weren't on and kept walking, assuming they were closed. Others would leave once they found out they couldn't pay electronically or buy a soda.
"I mean, come one, no matter what you're getting, everyone wants a drink," the man said.
Another volunteer in the Harland concession estimated that they lost out on $5,000 in soda sales.
One station down, a booth worked by volunteers from the John Glenn High School soccer team were a little more fortunate in that their lights worked and they could dispense soda. But they didn't have the ability to heat food or take credit cards.
Caralee Castelli, who runs the stand for the soccer team, estimated that they'd enjoyed maybe half of the $12,000 in sales normally expected on game day.
Toward the north end of the stadium, under section 25, the Huron High School concession stand did not experience any issues with the power, and saw a spike in sales. The stand sold out of hot chocolate, pretzels and other hot items by 2:30 p.m., which one volunteer said is far earlier than normal.
The volunteer estimated that their lines were 20 percent longer.
Nine of the 12 M-Den locations were unable to take electronic payments. Customers wishing to pay electronically were directed to stores with the capability.
Pete Cunningham covers sports for AnnArbor.com. He can be reached at petercunningham@annarbor.com or by phone at 734-623-2561. Follow him on Twitter @petcunningham.