Posted on
Fri, Jul 23, 2010 : 3:51 p.m.
Pro potential? Should Denard Robinson stay at quarterback, switch positions
By Dave Birkett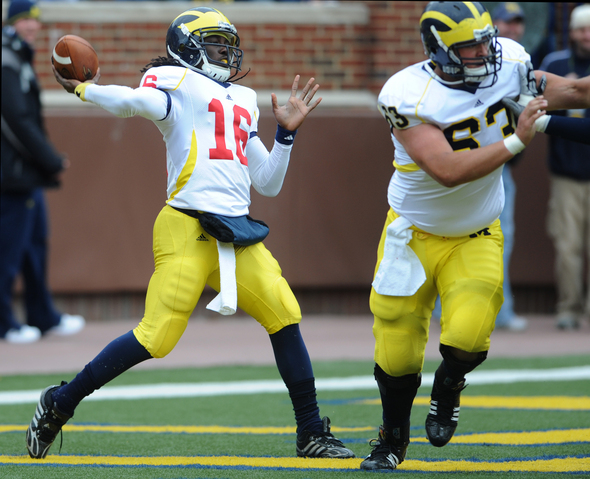 Lon Horwedel | AnnArbor.com
Denard Robinson has a good chance of winning Michigan's starting quarterback job this fall. He may even be the favorite.
But a 6-foot, 188-pound sprinter with questionable accuracy and imperfect mechanics, most think Robinson's NFL future is at a different position like receiver, return specialist or defensive back.
Robinson has said time and again he wants to remain a quarterback, and he chose Michigan because coach Rich Rodriguez gave him the opportunity to play that position.
"Rich and his staff promised my kid something," Art Taylor, Robinson's former coach at Deerfield Beach (Fla.) High, said this week. "I have total respect because they allowed him to do it. It would have been very easy to move him, it really would. But in Rich's offense it makes sense to have Denard there anyway."
Robinson's unique talents fit perfectly in Rodriguez's spread offense. He's explosive, has a powerful arm, and like Pat White, who Rodriguez won big with at West Virginia, is a nightmare to tackle in the open field.
But if Robinson, or anyone, is a position switch away from a potentially big payday, what responsibility does a college coach have to see to it that happens?
"I think your responsibility as a coach is to make sure a player does all he can within your program to have success as a college student-athlete," Rodriguez said earlier this spring. "To graduate with a degree, to have success individually and for a team. Is it your job to get him to the NFL? It's your job to help get him there, prepared for it. But he's got to be good enough individually and you got to do a good enough job teaching him to get there."
Asked specifically about Robinson, Rodriguez said: "You got to do what's best for your program. Our first obligation is to win as many games and have as much success at the University of Michigan as you can. And when we recruit guys, we say we're going to help you achieve your goals and dreams and all that, but you're playing for the University of Michigan and what are you going to do for our program. This is what we're going to do for you individually as an athlete and a person, and then hopefully you'll do this for us."
ESPN analyst Todd McShay said during a pre-draft conference call in January that he subscribed to a similar philosophy.
When critics panned Florida coach Urban Meyer for not properly preparing Tim Tebow for the NFL, McShay defended Meyer.
"It's not Urban Meyer's job," McShay said. "It really isn't. I keep going back to that because Urban Meyer's job is to win games and the job of his staff is to win games at Florida, and they won a lot of games during (Tebow's) four years there. They got him to win a Heisman Trophy and they put him in position to make a run at a career in the NFL. And everything that's come around with it, with all the fame that he has, I think he's in position to do a lot of things off the field that maybe he wouldn't be able to do if he didn't play at Florida.
"Unless Urban Meyer sat in (Tebow's) living room one day and said in four years I'm going to do this, this, this and this, and one of those promises was to develop you as best I can for the NFL, I don't have a problem with it. I'm assuming that he didn't because at no point in time has Tim Tebow and Urban Meyer's relationship ever waned, it seems."
Despite some suggestions he'd move to tight end or H-back in the NFL, Tebow was drafted in the first round as a quarterback by the Denver Broncos, No. 25 overall.
Taylor said Robinson believes he can reach the NFL as a quarterback, too, and Robinson showed remarkable improvement this spring. As a true freshman backup last year, he completed just 14-of-31 passes with four interceptions.
"Here's the thing, Denard knows and we've told (him) as high-school coaches, 'Denard, in the long run, you might be in the NFL a great defensive back, a great wide receiver,'" Taylor said. "In Denard's mind - and this is what you want - Denard thinks he can play quarterback in the NFL, and you know what, who knows?
"I don't know how much the NFL will change in the next two years. But I do know one thing, I do know Denard can play in the NFL at the receiver position or at the defensive-back position. I know that for sure. The kid's just too explosive."
Robinson and Tate Forcier, who started all 12 games last year, are expected to battle for the No. 1 quarterback job into fall camp.
Rodriguez has said Robinson will be on the field somewhere if he's not the starter, but there are no plans for Robinson to change positions, now or in the foreseeable future.
Taylor said that's the right approach, no matter how it impacts Robinson's NFL prospects.
"Can Denard play receiver? Can he play defensive back? Hell, yeah he can," Taylor said. "But that's not Rich's job. His job is to win. If you don't win, like all of us, we get fired.
"Denard can play at that next level, and I think the NFL has always done that. The NFL will take people and move them to different positions, just like colleges do. But Rich promised him a chance to play quarterback and I think it's the right position right now, especially for that offense."
Dave Birkett covers University of Michigan football for AnnArbor.com. He can be reached by phone at 734-623-2552 or by e-mail at davidbirkett@annarbor.com. Follow him on Twitter @davebirkett.