Posted on
Sat, Nov 13, 2010 : 11:45 a.m.
Stephen Hopkins' touchdown gives Michigan 11-point lead
By Jim Knight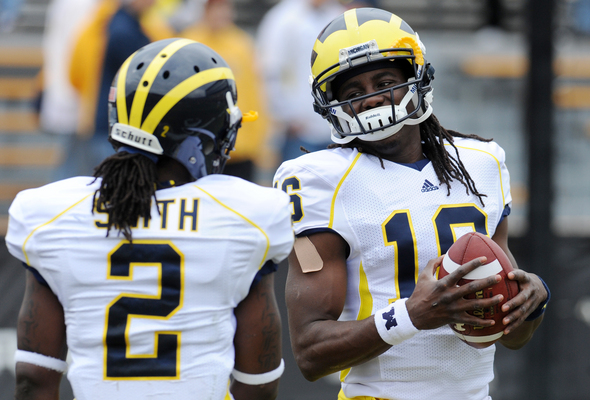 Melanie Maxwell | AnnArbor.com
Fourth quarter Michigan 27, Purdue 16: Stephen Hopkins plowed through the middle from 3 yards out with 1:58 to play. Michigan's drive covered 49 yards in nine plays.
Missed kick: Michigan's Seth Broekhuizen missed a 42-yard field goal with 14:40 to play.
Third quarter Michigan 20, Purdue 16: Carson Wiggs booted his third field goal of the day, a 40-yarder. Purdue got the ball in on the Michigan 24-yard line after an interception by Josh Johnson of a Denard Robinson pass over the middle.
Michigan 20, Purdue 13: Vincent Smith ran up the middle for a 19-yard touchdown as the Wolverines took advantage of a muffed punt by Purdue. Seth Broekhuizen missed the PAT.
Second quarter Michigan 14, Purdue 13: Carson Wiggs' 46-yard field goal pulled the Boilermakers within a point of Michigan. Michigan's last two offensive drives ended with turnovers.
Michigan 14, Purdue 10: Freshman Ricardo Allen intercepted Denard Robinson's pass, then avoided Robinson's attempted tackle and went 94 yards for Purdue's first touchdown of the day.
First quarter Michigan 14, Purdue 3: Carson Wiggs kicked a 20-yard field goal after driving 61 yards in eight plays.
Michigan 14, Purdue: Roy Roundtree caught a 9-yard touchdown pass from Denard Robinson. Michigan moved the ball 38 yards in five plays.
Michigan 7, Purdue 0: Craig Roh forced Purdue's Rob Henry to fumble and Cam Gordon picked it up and ran 63 yards for the touchdown.
The Michigan football team scored 67 points last week against Illinois. Today, the Wolverines are at Purdue (noon, Big Ten Network) to face a team that has allowed an average of 42 points in its last three games.
We'll update this file throughout the game.
Join our live chat for today's game: Rich Rezler and Michael Rothstein lead the conversation.
Catch up on AnnArbor.com's coverage leading into the game: The weekly mega-guide.