Posted on
Mon, Mar 19, 2012 : 3:14 p.m.
Devin Gardner contending for expanded role with Michigan football team, but where remains a mystery
By Kyle Meinke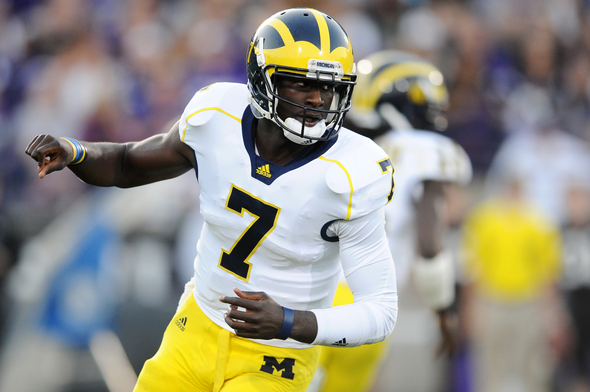 Melanie Maxwell | AnnArbor.com
Al Borges spoke to the media for the first time this spring. But perhaps the most intriguing thing to come out of the 20 minutes with the Michigan football team's offensive coordinator on Monday was something he didn't say at all.
Asked if backup quarterback Devin Gardner is working out at receiver this spring, Borges replied: "Practices are closed for a reason."
The Wolverines have made no secret they would like to make Gardner a regular component of their offense, and they did that last year when they added a "deuce formation" that got him on the field at quarterback.
Regular quarterback Denard Robinson moved to tailback or receiver in those sets, although he never ran routes.
Borges said the plan will be similar going forward.
"We're doing what we did a year ago, pretty much," he said. "We're going to play the best 11 guys. Devin's a backup quarterback right now, he's No. 2 and we're going to do what we've got to do to get the best 11 on the field.
"We've pretty much got the same mentality that we had."
Borges said Michigan will work on the deuce this spring for about four or five practices, although not right away.
"Once we (get that down), then we'll start dabbling a little bit more into the offseason research we've done on some stuff," Borges said.
That's where things get interesting. Borges showed last year he likes to keep things fresh, rolling out a variety of wrinkles as the season progresses. The speed option and deuce formation were among them.
What form that trend takes next year probably won't be known until the season starts, but there's little question it will somehow involve Gardner.
"Every time you put together a plan, you got to find a way to factor him in to it somewhere," Borges said. "I'm not telling you anything you don't already know. We're always looking for opportunities to get him into the game in some way, shape or form, without breaking the rhythm of the quarterback.'
Although Borges wouldn't say Gardner was lining up at wideout in spring practices, he did later add: "(We'll) see to it we use him getting the ball, using him throwing the ball, and using him decoying."
Gardner is a junior from Inkster High School. He was a five-star recruit coming out of high school, and ranked the country's No. 1 dual-threat quarterback. He came to Michigan to play in former coach Rich Rodriguez's spread-option attack.
However, he has been buried behind Robinson on the depth chart, and that again will be the case next season when Robinson returns for a third season as the starter.
Complicating things is Gardner also played in three games as a freshman, which could preclude him from earning a fifth season (and two seasons as the full-time quarterback). He won't know the NCAA's decision until next year.
That means it is possible he will only get one season as a full-time quarterback, which enhances the incentive to get him on the field in the interim to take advantage of his athleticism.
"He's an incredible athlete," Borges said. "He's got so many dimensions to him, and he's smart, so he picks stuff up fast. Doesn't have any problem that way."
Gardner was 11-of-23 passing last year for 176 yards and one touchdown. He also ran 25 times for 101 yards and another score.
Asked if Gardner will be used more next season, Borges said "I don't know yet. We'll see. It's a matter of how, and that's what we'll see."
Kyle Meinke covers Michigan football for AnnArbor.com. He can be reached at 734-623-2588, by email at kylemeinke@annarbor.com and followed on Twitter @kmeinke.