Posted on
Mon, Apr 12, 2010 : 2:48 p.m.
Quarterbacks shine in Michigan's second spring football scrimmage; plus more on 3-3-5 defense
By Dave Birkett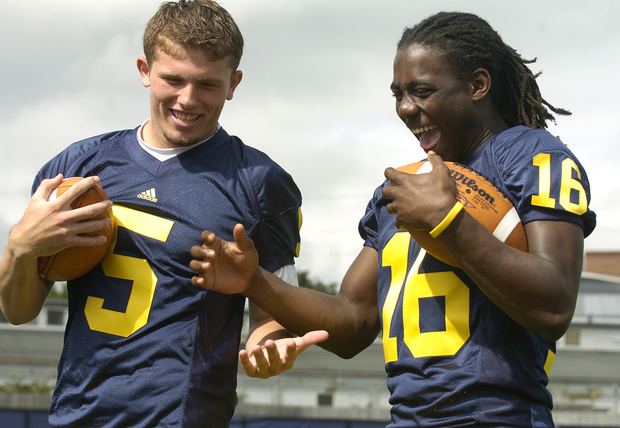 Lon Horwedel | AnnArbor.com
All three Michigan quarterbacks put up impressive numbers in last Saturday's scrimmage, a workout Wolverines coach Rich Rodriguez called the most important of the spring.
According to video posted on MGoBlue.com, Denard Robinson completed 15-of-20 passes for 82 yards and a touchdown, and ran 12 times for 105 yards and two more scores as the offense beat the defense in a controlled 115-play scrimmage.
Tate Forcier, last year's starter, was 9-of-12 passing for 88 yards and ran for one 3-yard touchdown. True freshman Devin Gardner was 8-of-11 passing for 96 yards and had 96 yards rushing and two touchdowns on 10 carries.
All stats are unofficial.
Rodriguez said earlier this spring that Robinson was pushing Forcier for the starting job.
"The quarterback situation is an ongoing battle," Rodriguez said last week. "I think Tate and Denard have gotten better, certainly Devin Gardner's gotten better. He's a true freshman learning for the first time. I think that race is going to continue throughout spring and probably through August camp as well. I think they all bring a little something to the table."
Tackle box
Redshirt freshmen Taylor Lewan and Michael Schofield continue to push for playing time at left and right tackle, respectively.
"We saw the talent last year when they were on scout team and it was going to be fun to watch them compete in our offense," offensive coordinator Calvin Magee said last week. "They're immature, they got a lot to learn, but they're competitive. I know I keep using that word, but they're competitive and it's just been fun to have that competition there."
Perry Dorrestein and Mark Huyge entered camp as the projected starters at tackle after splitting the right-tackle job last year. Left tackle Mark Ortmann graduated.
"They've been fine this spring and it's Year 3 for them now so they just really understand what we want," Magee said. "That's going to make that whole position interesting."
Rodriguez: Defense not exactly like West Virginia

Rodriguez downplayed Michigan's switch to a 3-3-5 defense when asked about the change last week.
"I don't know what's been written because I haven't been out there, but more has been probably said about the changes than what's actually happening," he said. "I think spring is a time for us to look at several things - what we were doing in our 3-4 and 4-3 and did some 3-3 stuff last year, to add in some packages. I mean, to say we're going to do exactly what we did in the past at West Virginia, that's not true.
"(Defensive coordinator Greg) Robinson has a wealth of experience and he looks at everything as our defensive staff does and tries to fit it to our personnel. I think right now in the spring he's looking at a wide variety of fronts and coverages, things that are simple enough for our guys to understand but gives us the multiplicity we felt we needed last year."
Dave Birkett covers University of Michigan football for AnnArbor.com. He can be reached by phone at 734-623-2552 or by e-mail at davidbirkett@annarbor.com. Follow him on Twitter @davebirkett.