Posted on
Wed, Aug 25, 2010 : 2:58 p.m.
Ready or not, J.T. Floyd steps into role as Michigan football team's top cornerback
By Jeff Arnold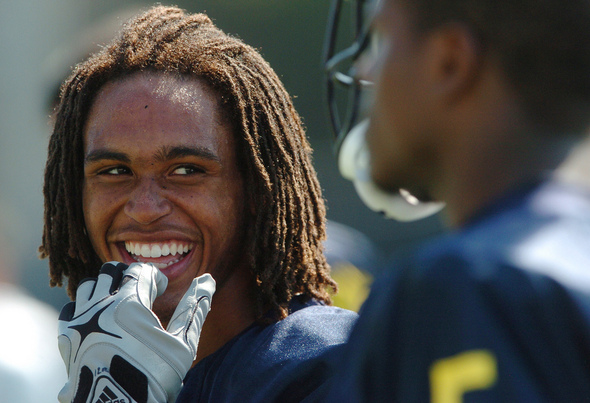 J.T. Floyd's football resume' doesn't scream ready-for-prime-time performer.
But the Michigan sophomore cornerback, who boasts two career starts and who wasn't exactly steady in a position he must now take ownership of, no longer has a choice.
He has to take over.
Floyd is now the Wolverines' most seasoned defensive back, forced to fill a role senior Troy Woolfolk was locked into until an injury put his season in jeopardy last week.
Woolfolk's injury was the latest in series of events - including J.T. Turner's decision to transfer and highly-touted recruit Demar Dorsey not being admitted to the university - that chipped away at the Wolverines' cornerback collection, slowly moving Floyd to the forefront.
The injury also forced Floyd to speed up his maturation process that defensive coordinator Greg Robinson and defensive backs coach Tony Gibson were just beginning to see.
"J.T. Floyd may have been the guy that made the biggest jump from last season to the end of spring ball in so many ways," Robinson said on Sunday. "There's nothing any different - he's just worked really hard.
"J.T. just has a way about him - he leads well and his work habits - he's just a harder worker than he was at this time last year."
Gibson concurs.
"He's done such a complete turnaround. You just take last year at this time, and he was just a guy really trying to work to the point that he's at right now, and he's done it."
Floyd didn't have a choice. His two starts last season came eight weeks apart, but also came against Michigan's two biggest rivals. He made four tackles in his first career start against Michigan State, when, at times, he was uncertain and struggled to find his place. From that point on, he played sparingly - or not at all. He was often used only on special teams or in a fill-in role before again earning a starting spot in the season finale against Ohio State.
His first season produced mixed results, 17 tackles and one pass breakup. After being moved to cornerback from his natural safety position he played in high school, Floyd showed flashes of the player he could become.
"I got a chance to play a little bit and I got my feet wet," Floyd said. "Now, I know what to expect and how to prepare better, and I think I've got an overall better feel for the game now."
When Woolfolk's injury took Michigan's top cornerback away for a significant period of time, Floyd realized he would be ask to assume the role as the Wolverines' top corner. And Robinson said that Floyd showed signs of being better prepared for more responsibility long before Woolfolk's injury.
With Woolfolk gone, Floyd knows what opposing receiving corps may be thinking: No Troy Woolfolk, no problem. That only makes the chip on Floyd's shoulder bigger, inspiring him to keep working to prove people wrong.
"I can definitely see other teams looking at us, an inexperienced group and as a group that has a lot to prove," Floyd said. "But we've been working extremely hard, and I think we're up for the challenge. For me, personally, I'm just going to continue doing what I've been doing for a while now and let the chips fall where they may."
Jeff Arnold covers sports for AnnArbor.com and can be reached at (734) 623-2554 or by email at jeffarnold@annarbor.com. Follow him on Twitter @jeffreyparnold.