Posted on
Mon, Jan 30, 2012 : 5:59 a.m.
Michigan whiffs on Armani Reeves, but it's clear Brady Hoke's recruiting pitch is working
By Kyle Meinke
Armani Reeves was one of the country's five best available high school cornerbacks until he committed to Ohio State late Sunday night.
Michigan was a surprising runner-up for the former Penn State commit, who left the Nittany Lions in the aftermath of the child-sex scandal that has rocked Happy Valley. Although the Wolverines were edged out, it is clear how they were able to rise into contention for him.
They remained mum on Penn State.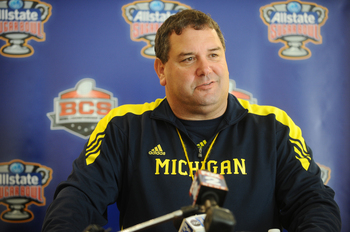 Melanie Maxwell | AnnArbor.com
"(Reeves') dad said they came in and recruited him, and did it the right way — they did not negative recruit, and almost every other school that came in did," Scout Midwest recruiting expert
Allen Trieu
said. "That's why they decided to take a look at Michigan instead of just opening back up the recruiting to a whole bunch of schools."
All's fair in love, war and the cut-throat business of college football recruiting. It seems nearly every prospect has an off-the-record tale of an over-aggressive coach. And, much like politicians in election season, that includes dishing on the competition.
But, several current Michigan commits were unanimous in saying Hoke and his staff did not reproach the competition during their recruitments.
Defensive end Chris Wormley is a good example. The four-star prospect hails from Toledo, Ohio, and boasted an offer from Ohio State, which has gone through a scandal and coaching change during the 2012 recruiting cycle.
So, naturally, the Buckeyes absorbed blows from rival staffs on the recruiting trail. But, not Michigan, even as Ohio State became a finalist.
"I don't think they criticized anyone, like with Ohio State, or the scandal they had," Wormley said. "I don't think they talked to me about them once. They're definitely more concerned about Michigan, not what this team or that team is doing wrong. I liked that."
Other recruits tell similar tales of Hoke and his primary recruiters, Greg Mattison, Al Borges, Chris Singletary and Jeff Hecklinski.
"A lot of the other coaches, when I would talk to them, they'd ask, 'What other schools you looking at?'" four-star Iowa receiver Amara Darboh said. "And then then they would talk badly about the schools, or bash where I just went.
"But, not Michigan. I don't know why they didn't, but I like that they didn't, and it says a lot about them."
Wormley, Darboh and the rest of the Michigan recruits can sign letters of intent Wednesday. Three — Jarrod Wilson, Joe Bolden and Kaleb Ringer — already are on campus.
There are a confluence of factors that have contributed to the Wolverines' recruiting class, which ranks among the top 10 according to every major service. The early success — Michigan locked up a Big Ten-best 21 commitments before August, and was ranked No. 1 by multiple recruiting services — suggests it wasn't just the 11-victory season.
The pitch is clearly working.
Of course, the recruits who commit to a school will be most glowing about that school — they chose it, after all — but Trieu said even players who didn't commit to Michigan echo that sentiment.
Trieu said Michigan has been honest almost to a fault.
"They're straight shooters — straighter than most," said Trieu, who is close with almost all of Michigan's Midwest recruits and their parents. "They're no sugar-coating. They've lost guys because they've been honest with them about the position they're going to play."
Star defensive tackle Ondre Pipkins, ranked by Rivals as the Wolverines' top prospect, said that also has been his experience, both with himself and others.
"He tells you if you're wanted or not," Pipkins said. "He doesn't make people wait. He doesn't think that's fair at all. If someone wants to commit, he's going to let other guys know and give him a head's up.
"But he's a great recruiter, man. He's a good guy, and I'm glad I'm under him."
The coaches appeal to parents as well.
Dan Schaefer, legal guardian of Darboh, said he was highly skeptical of Michigan because of the failures of the Rich Rodriguez era and the instability of a coaching change. Two things changed his mind.
First, it was Hoke's measured handling of struggling punter Will Hagerup in the Ohio State game last season, which was Darboh's official visit.
"He wasn't overreacting," Schaefer said. "Like, the punter missed the snap. But (Hoke) didn't go over there and get in his business right away. I liked that. It gave me confidence he could handle Amara."
Second, it was his trust in Hoke, which was built on the coach's willingness to acknowledge he didn't always know the answers to questions.
Other staffs weren't like that, and it struck Schaefer as being disingenuous.
"It was just kind of like, 'I'm going to be here for forever. I'll be here for years, just signed a contract,'" he said. "We were warned ahead of time we were going to hear that from a lot of coaches, but with these (Michigan guys), it was different."
Kyle Meinke covers Michigan football for AnnArbor.com. He can be reached at 734-623-2588, by email at kylemeinke@annarbor.com and followed on Twitter @kmeinke.