Posted on
Sat, Nov 12, 2011 : 9:35 p.m.
Red zone follies hamper otherwise dominant Michigan performance
By Nick Baumgardner
CHAMPAIGN, Ill. -- The way the first-half box score read, one might have thought the Michigan football team was well on its way to a walk in the park.
But, thanks to several hiccups, the Wolverines' possible blowout turned into somewhat of a white-knuckle affair.
Michigan out-gained Illinois 249-30 in the first half, but thanks to a pair of Denard Robinson fumbles, a turnover on downs near the goal line and a missed field goal, the Wolverines only held a two-possession lead at the break.
"Yeah, it was frustrating," Hoke said. "Everybody gets frustrated."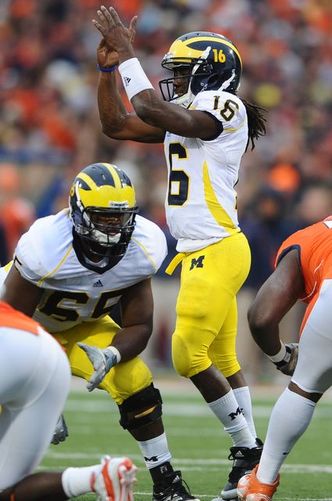 Melanie Maxwell I AnnArbor.com
After a 2-yard touchdown run by Robinson put Michigan up 14-0 early in the second quarter, the Wolverines appeared to be headed for an early kill-shot midway through the frame when Robinson found tight end
Kevin Koger
on a 40-yard strike to set the team up with a first and goal at the 2-yard-line.
Fitzgerald Toussaint followed that up with a pair of negative rushes before Robinson appeared to score on an 8-yard keeper. The apparent touchdown was reviewed and overturned, though, and Michigan was presented with a fourth-and-goal from the 1.
Hoke opted to go for the score, but Michigan lined up in a wide spread formation, calling an option look that resulted in a 4-yard loss and a turnover on downs.
Illinois promptly gave the ball right back to the Wolverines when Thomas Gordon recovered a fumble one play later on the Illini 13-yard line.
But, again, Michigan did nothing with the opportunity. Michael Shaw was dropped for an 8-yard loss on a stretch play before Robinson coughed the ball up on a sack (his second fumble of the half), giving the Illini possession back on their own 32.
Michigan's final first-half blunder came just outside the red zone with 55 seconds to play before the break. Brendan Gibbons pushed a 38-yard field goal with the wind at his back.
Hoke didn't give much explanation as to what happened on the missed opportunities, just saying they weren't due to a lack of effort.
"The kids are working their tails off," Hoke said. "You always want to look a little bit at your opponent and what they're doing, but you also have to look at what you did and where did we not block a guy right or miss an open receiver.
"That's all part of it."

Woolfolk, Gordon split time at safety

Michigan senior defensive back Troy Woolfolk once again earned the start at free safety Saturday against Illinois, but unlike last week, he didn't play the entire game.
Gordon split time with Woolfolk, and statistically had a better day.
Woolfolk finished with three tackles, but Gordon collected a pair of tackles, a fumble recovery and a pass breakup. The sophomore now has four fumble recoveries on the season.
"That's what we'd planned on doing before," Michigan defensive coordinator Greg Mattison said of rotating the two players. "Bottom line, everybody has to play and everybody has to do their job when they're out there."

Toussaint approaching milestone

With a career-high 192 yards on the ground Saturday, Toussaint now needs 247 yards to reach the 1,000-yard mark on the season.
Toussaint's 753 rushing yards this season are the most by a Michigan running back since Mike Hart ran for 1,361 yards in 2007.
Hart was also the last Michigan running back to eclipse the 1,000-yard barrier.
"I feed off of others," Toussaint said of his performance. "If my offensive line has juice, then I have juice."

Schofield starts; Barnum dresses, but doesn't play

Junior offensive guard Ricky Barnum was back in uniform Saturday after suffering another ankle injury two weeks ago against Purdue.
His services weren't needed, though, as sophomore Michael Schofield started in his place and was not subbed out.
Alongside left tackle Taylor Lewan, Schofield's blocking was key in Michigan's early running success, as a majority of Toussaint's 134 first-half yards came off the left side.
"They're both a work in progress, obviously," Hoke said. "I think (Schofield) is getting better with every start. He's going to make mistakes and hopefully learn from them as that tandem both grows together.
"Ricky will come back and compete, he's not all the way healthy. He could have played if it was an emergency situation. But, I think those six guys have done a nice job staying together and working together."

Floyd, Van Bergen fine after injuries

Michigan senior defensive lineman Ryan Van Bergen and junior cornerback J.T. Floyd both left the game in the fourth quarter due to injury, but neither instance was serious.
"(Floyd had) a cramp and Ryan's fine," Hoke said.

Odds and ends

Illinois was 0-for-6 on third down conversions in the first half, and only netted one first down over the game's first 30 minutes. ... Robinson moved into a tie for sixth-place on Michigan's all-time rushing touchdown list, passing both Billy Taylor and Tom Harmon in the process. Robinson, who now has 31 career rushing touchdowns, is tied with Steve Smith and is three behind Rick Leach for fifth place. In addition, Robinson also moved past former quarterback Brian Griese for eighth-place on Michigan's all-time passing yards list with 4,467. He now trails Smith (4,860) for seventh-place. ... With his 27-yard touchdown catch in the fourth quarter, senior receiver Martavious Odoms eclipsed the 1,000-yard mark for his career.
Nick Baumgardner covers Michigan sports for AnnArbor.com. He can be reached at 734-623-2514, by email at nickbaumgardner@annarbor.com and followed on Twitter @nickbaumgardner.