Notebook:

Reinstated punter Will Hagerup will start against Minnesota, Ricky Barnum doubtful and more

Posted on Fri, Sep 30, 2011 : 7:17 p.m.
Not even an improving Matt Wile could wrestle the punting job away from incumbent Will Hagerup.
That's a good sign for the Michigan football team.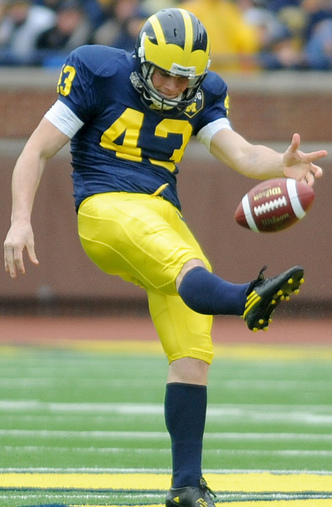 AnnArbor.com file photo
Hagerup was suspended the first four games of the season due to an undisclosed violation of team rules, and is due to return to action in the
Big Ten
opener Saturday against
Minnesota
(Noon, BTN).
Michigan coach Brady Hoke announced Friday night via a video released by the school that Hagerup will start against the Gophers (1-3).
He had been competing with Wile for the job.
Hagerup was one of the nation's top punters last year as a freshman, and his absence was expected to be a blow to Michigan (4-0) in the non-conference schedule. But Wile, a freshman, came on strong.
He topped out last week, when he averaged 49.0 on four punts.
The fact Hagerup still supplanted Wile is a good sign of where he's at right now.
"We think Matt Wile has done a great job for us, but Will will do the punting for us (Saturday)," Hoke said.
Hagerup averaged 43.6 yards per punt last year, with a long of 72.
Wile averaged 41.1 yards per attempt with a long of 51 in his four-game run as Michigan's punter.

Barnum doubtful for Saturday
Hoke, on the status of injured left guard Ricky Barnum: "Ricky is trying to get back, but I don't know how realistic it will be for (Saturday)."
Barnum, a junior, twisted his ankle last week against San Diego State and did not practice Tuesday.
His replacement is expected to be sophomore Michael Schofield, who replaced Barnum against the Aztecs and also started the opener against Western Michigan, when Barnum did not play due to "team issues."
Schofield has been a solid reserve for an otherwise thin group.

Tailback-by-committee still on
Hoke said sophomore Fitz Toussaint and junior Vincent Smith will continue to carry the bulk of the load at tailback.
Toussaint has started each game except Notre Dame, when he sat out with a shoulder injury. Smith's workload has increased, though, including logging Michigan's only 100-yard rushing performance by a tailback in a win against Eastern Michigan in Week 3.
"We'll still rotate, we'll still play both guys -- they both give us some things we like," Hoke said. "We just need to keep that production going at that position and block a little better at the line of scrimmage."
Hoke also mentioned senior Michael Shaw and sophomore Stephen Hopkins as players who "give you some things."
Shaw, who was the leader to win the lead tailback job throughout fall camp, has one carry for minus-3 yards the past two weeks. Hopkins got one carry last week and fumbled.

Odds and ends
• Hoke said senior cornerback Troy Woolfolk (ankle sprain, broken hand) will "definitely" play against Minnesota.
• Hoke said sophomore linebacker Cam Gordon (back) is "healthier than he was, so he's a possibility." Gordon has yet to play this year, despite being listed first on the depth chart on the strong-side each week. Hoke said he would be available last week, but he did not dress.
• Hoke, on whether strides were made this week in the passing game: "We'll find out (Saturday)."
• Hoke, on the importance of the Minnesota game: "We want to win the Big Ten championship, and (Saturday's) the first step to doing our job."