Posted on
Wed, Jul 14, 2010 : 4:51 p.m.
Dave Brandon says renovated Michigan Stadium blends new with old, maintaining venue's tradition
By Jeff Arnold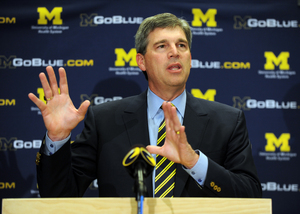 Lon Horwedel | AnnArbor.com
Dave Brandon has ushered guests through Michigan Stadium for weeks now, showing off what $226 million will buy in renovations.
The response is often the same as the Michigan athletic director watches the wow factor of the new suites and club seating sink in. But the 81 boxes and nearly 3,000 club seats are just part of a Michigan football experience that Brandon believes offers something for everyone.
Yet, for all of the additions including 297 new flat screen televisions, 797 speakers, the 5,100 square feet of granite in the suites and the 1.89 million bricks inscribed with a Block M that are shaped 52 different ways, Michigan Stadium feels it always did.
Just with a fresh face.
"The things this stadium means to the University of Michigan and the meaning it has in the hearts and minds of our alums, our supporters and our fans is just incredible," Brandon said Wednesday. "So to go in and change it was a big decision, it was one we're incredibly thoughtful about, it was one that had risk, but I am very, very pleased."
As fans passed through the new east structure Wednesday, they gawked at their surroundings, posing for pictures inside luxury boxes while testing the comfort level of the chairs in the club seating areas.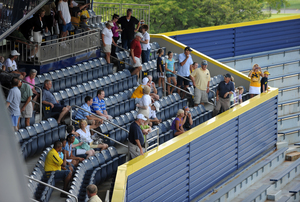 Lon Horwedel | AnnArbor.com
For all of the stadium's storied history, modern amenities such as etched glass designed with winged helmets, rich wood surroundings and large open common areas enhance the areas fans got a chance to see during Wednesday's open house.
Fathers like Mark Neumann from Ypsilanti held infant sons, overlooking a freshly Field Turf-covered field that hasn't yet been painted. Neumann comes to only the occasional game, sitting as close to Michigan's student section as he can. But for a day, he got an overview of the field below from the club seating level that begins at $3,000 plus the $375 cost of a season ticket.
"I came in here, and I was like, 'Wow,'" Neumann said during Wednesday's public open house. "Then they told me how much it cost, and I was like, 'Wow.' "
Fans on Wednesday stood at the ends of the east-side structure, taking in aerial views of Ann Arbor's skyline and the University of Michigan golf course. They looked down as stadium workers stroked maize paint over the unpainted Block M in the lower bowl and completed brickwork in the plaza outside the stadium tunnel.
They sat inside luxury boxes that will seat as many as 22, appreciating elevated sight lines while soaking in many of the changes that have been incorporated into the three-year renovation project.
"I can appreciate the $226 million costs now," said Bill Berlin, a 1959 Michigan graduate and season ticket holder. "It's impressive. We were so accustomed to the way it was and we had concerns (about changes), but it's terrific. We're up to speed now."
In addition to all the structural changes, Brandon said the improvements will change the way a typical Michigan game sounds. According to estimates, the noise level on the field will be 30 percent louder.
"I actually think the people downtown heard more noise than the people on the 50-yard line did because of the way that sounds spreads from the bowl," said Brandon, a former Michigan football player. "That's part of the design that I think is really going to improve the atmosphere as well. I think the stadium will rock and roll a lot more."
Michigan officials are re-seating the stadium, providing more room for fans who in the past have felt squeezed. More restrooms and concession stands along with more concourse space to move around in will cut down congestion.
Sales of luxury seating, which tops out at $85,000 a year, continues to go well, Brandon said. Associate athletic director Joe Parker said Wednesday that of the 61 suites that have been committed to, 60 percent have been sold to individuals while the remaining 40 percent have gone to corporate entities.
Parker has been pleased with the way sales have continued, especially recently at the club seating level. While other stadiums that have undergone renovations have taken up to three years to reach capacity, Parker believes it may not take that long to fill the remaining vacant luxury seating.
Michigan's only other foray into luxury seating was when the school added club seating at Yost Ice Arena. It took three years to reach capacity there. But Parker knows Michigan football has a different following.
"I feel very good about where we're at," he said. "I've got to believe just based on reaction as we get more exposure for the project that we'll be at 100 percent before three years."
Jeff Arnold covers sports for AnnArbor.com and can be reached at (734) 623-2554 or by email at jeffarnold@annarbor.com. Follow him on Twitter @jeffreyparnold.