Posted on
Thu, Nov 17, 2011 : 11:29 a.m.
Michigan's Brady Hoke 8th-highest paid college football coach
By AnnArbor.com Staff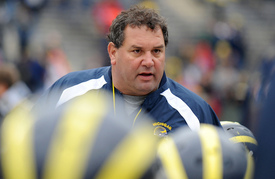 Angela J. Cesere | AnnArbor.com
Michigan football coach Brady Hoke is one of 64 college football coaches making more than $1 million a year, USA Today reports.
Hoke is the eighth-highest paid football coach with an average compensation of $3.254 million, according to a database USA Today compiled. Salaries for football coaches are up 55 percent in the past six seasons and the average compensation is $1.47 million, USA Today reports. Average pay is up 7.3 percent in the past year.
Eastern Michigan coach Ron English is near the bottom of the database of 110 of the 120 schools in the Football Bowl Subdivision at $343,350. The only coach in the state making less is Dan Enos at Central Michigan, and he's at $325,600.
Hoke signed a six-year deal with Michigan in March, and he will earn $2 million this season. His base salary is $300,000 and his additional compensation this year of $1.7 million comes from television and other media appearances, a shoe and apparel deal and more.
Download Hoke's contract: Hoke contract 2011.pdf