Posted on
Mon, Feb 20, 2012 : 5:20 p.m.
Report: Ohio State scoffs at majors of Michigan football players with sign at football facility
By Kyle Meinke
Brady Hoke takes a lot of pride in what Michigan has to offer as a university, and uses the school's academic reputation as a key selling point in his recruiting pitch.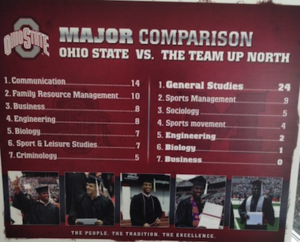 Kevin Noon/Buckeye Grove
He'd take exception to any school or coach knocking that reputation. That's why
Ohio State's
latest jab at his football program is sure to cause a stir.
A photo has surfaced of a sign that reportedly has been posted at the Woody Hayes Athletic Center scoffing at the majors of Michigan football players.
The sign compares the academic pursuits of the Wolverines to those of the Buckeyes, highlighting the fact that 24 percent of Michigan players major in general studies. Enrollment in more rigorous programs such as engineering (2 percent), biology (1 percent) and business (0 percent) is much more uncommon.
The top major of Ohio State players, according to the sign, is communication at 14 percent. Family resource management is next at 10 percent.
It's the latest move in a series of slights by the two schools toward each other. Hoke just sticks to calling his rival "Ohio," and has gotten athletic director Dave Brandon and basketball coach John Beilein to follow suit. Then, the Buckeyes listed Michigan as "That School Up North" on their football facility schedule.
How will Hoke react to the jab at his program's academics? He typically doesn't fire back at fellow coaches, but he just might make an exception for this one as it strikes at a source of pride, and comes from his chief rival.
Stay tuned.
Kyle Meinke covers Michigan football for AnnArbor.com. He can be reached at 734-623-2588, by email at kylemeinke@annarbor.com and followed on Twitter @kmeinke.