Posted on
Fri, Nov 11, 2011 : 2:33 p.m.
Reporter: Michigan should expect strong game from Illinois QB Nathan Scheelhaase
By Kyle Meinke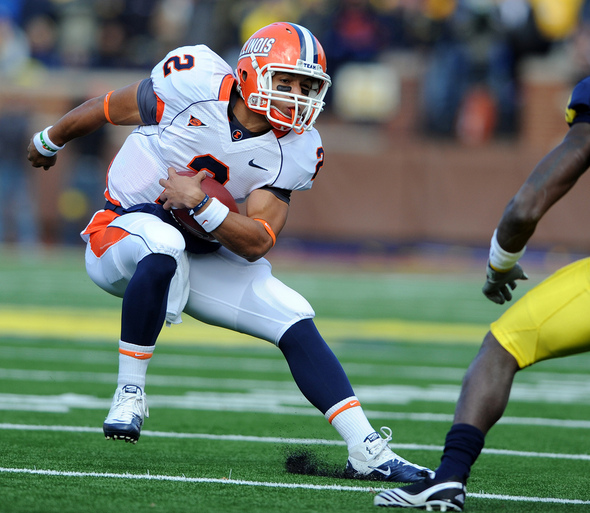 AnnArbor.com file photo
Not long ago, the Illinois football team was 6-0 and the No. 16 team in the nation. Heading into their game against Michigan on Saturday (3:30 p.m., ABC), the Illini are trying to snap a three-game losing streak.
"Everything that went right during the 6-0 start has seemed to go wrong during the 0-3 run," Illinois beat writer Bob Asmussen of the Champaign News-Gazettte writes in our weekly Beat Writer Breakdown.
What's going right for the Illini is they had an off week last week. Asmussen said the team look tired in losses to Purdue and Penn State, and that quarterback Nathan Scheelhaase will particularly benefit from the week off.
Scheelhaase had a monster game against Michigan last season (211 yards passing, 101 yards rushing), when the Wolverines pulled off a wild 67-65 triple overtime win. Asmussen thinks he could have a better game this weekend.
Illinois has lost three in a row after opening 6-0. Why the derailment?
Bob Asmussen: It's been a combination of things. Against Ohio State, Illinois turned the ball over three times and the Buckeyes had none. In a 10-point game that was the difference. Against Purdue, Illinois fell behind and couldn't fight its way back. Against Penn State, Illinois played very good defense all the way until the final two minutes, then let the Nittany Lions score the winning touchdown on a long drive. Special teams have been a major contributing factor in the Purdue and Penn State losses. Purdue smothered one punt, which led to a touchdown. Penn State smothered another, which led to a field goal that was the deciding score. And Illinois is getting nothing from its return teams. Derek Dimke, who is as reliable as they come, hit the upright against Penn State on the final play. Everything that went right during the 6-0 start has seemed to go wrong during the 0-3 run. And I'm sure the confidence of the players and coaches is eroding some.
The Illini have been surprisingly tough on defense this year, allowing only 17.2 points per game. What's working, and what do you expect them to do to try to contain Denard Robinson?
BA: The biggest surprise of the team, by far, is the line. It lost Corey Liuget a year early to the NFL. It was supposed to be a major weakness. But ends Whitney Mercilus and Michael Buchanan have been big all season.
You knew they were good players, but they have taken an unexpected step. I also think you have to credit coordinator Vic Koenning, who can make his defenses work at times with smoke and mirrors. Illinois will try to make Denard throw, not that that worked last season. But I think the Illinois defense wants to limit the damage he does with his legs. I don't think a mobile quarterback bothers this defense as much as it might have in the past. One other guy I better mention is linebacker Jonathan Brown. He's been playing at an All-Big Ten level all season. And he's just a second-year guy.
QB Nathan Scheelhaase killed Michigan last year, throwing for 211 yards, running for 101 more, accounting for four touchdowns and leading the Illini to 65 points. However, Michigan's defense also is much improved. Do you expect him to have success again this year against the Wolverines?
BA: Nobody on the team needed a week off more than Scheelhaase. He was clearly not himself in the last couple of games. I think a lot of that is the physical pounding he has been taking. He seems to have lost a step in the last couple of weeks. I'm guessing he will be back to his old self. With Jason Ford running better, the lanes should open for Scheelhaase as both a passer and a runner. I think he could be in for a big game, with maybe more passing yards than a year ago and fewer running yards.
AP Photo
KM: Where will be Michigan's biggest matchup disadvantage on the field?
BA: I think it's receiver A.J. Jenkins against the Michigan secondary. He's already gone over 1,000 yards and has a knack for finding holes in the defense. If the weather cooperates, he will have a chance for a big game. The advantage grows even more if one of the other Illinois receivers, maybe Spencer Harris, gets off to a good start and draws some of the attention away from Jenkins.
Is Ron Zook running out of time at Illinois?
BA: Maybe. He's got two years left on his contract after this season. So, new athletic director Mike Thomas will either need to move on or add years to Zook's contract. The latter wouldn't be a popular move with some of the Illinois fans, but it might be a more appealing option to Thomas than starting over. Zook has already got the team in a bowl and has a chance for consecutive bowl wins for the first time in school history. That can't be ignored. But Thomas will make a decision based on where he thinks the program is going, not where it's been.
Bob Asmussen's prediction:
Illinois 31, Michigan 30. I'm very conflicted on this one. I was all ready to pick the Wolverines until they lost at Iowa. I think the week off will be big for Illinois, which looked tired against Purdue and Penn State. If Illinois wants to win the game, it can't get off to slow starts like it has in the three losses.
Bob Asmussen covers Illinois football for the Champaign News-Gazette. Follow him on Twitter @BobAsmussen.
Kyle Meinke covers Michigan football for AnnArbor.com. He can be reached at 734-623-2588, by email at kylemeinke@annarbor.com and followed on Twitter @kmeinke.