Posted on
Fri, Sep 10, 2010 : 10 a.m.
John Pollack on Michigan Stadium, more on Brock Mealer, Denard Robinson and his clone, plus the mailbag
By Pete Bigelow
After undergoing a three-year, $226 million renovation, Michigan Stadium re-opened last weekend to rave reviews.
Wide sidewalks, wider concourses and more bathrooms made for a more fan-friendly experience, not to mention the Michigan football team's performance on the field.
None of that necessarily answers the question of whether all the changes have altered Michigan Stadium's image as one of America's iconic sports venue.
John Pollack would argue they have, and not for the better.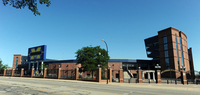 A founder of Save The Big House, a group that presented an alternative renovation plan for upgrades sans luxury boxes, Pollack thinks the refurbished venue has all the charm of an office park.
"What happened was that Michigan Stadium was a unique stadium," he said. "With the renovation, it looks pretty much like every stadium in the country."
Before, the majority of the stadium sat sunk into the ground. Now, the brick sides of the stadium rise from the ground and are visible for several blocks in most directions. To Pollack, that ruined some of the stadium's intangible qualities.
"That aura of surprise and awe approaching and entering the stadium to see the mighty bowl fall beneath you, that was really special. It was a magical approach."

It's more than the architectural aesthetics that disappoint Pollack.
"Those luxury boxes are a monument to a past age, they're not to the future," he said. "They reflect the excess and materialism of the past decade, which has come crashing down."
As of last week, 65 of the 82 boxes had received three-year commitments, as well as 90 percent of the 2,592 premium seats, according to The New York Times.
Revenues from the boxes and seat-license fees are expected to top $12 million this season and $14 million when all are sold -- enough to cover the approximate $9 million debt service, according to The Times.
Pollack argues that, through purchasing premium seating, the average fan winds up subsidizing the construction costs of the luxury boxes.
"If you take out seat-license fees, the whole financial model collapses," he said. "And what did the average fan get in return? A quarter-inch. It's not even worth repainting the numbers."
Though the average fan received added amenities like the concourse space and bathrooms, Pollack shouldn't be surprised that money drives every decision related to college athletics these days.
The Big Ten's recent divisional split hammered that point home.
Luxury boxes and premium seating could generate another $3 to $5 million per year in revenue, and Michigan would be remiss if it didn't chase after every possible dollar.
Do they alter some of the some of the intangible qualities that made Michigan Stadium a unique venue? Absolutely.
But Pollack seems not only interested in preserving the aesthetics of Michigan Stadium, but also an era in which college athletics were about more than the bottom line.
That's an honorable position. It just seems that battle was lost a long time ago.
Brock Mealer's unwavering allegiance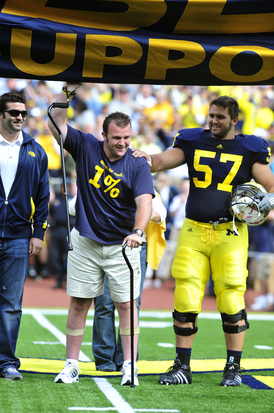 Melanie Maxwell | AnnArbor.com
As a current Ohio State grad student and inspiration to Michigan fans,
Brock Mealer
is in an awkward position. He's discreet about his allegiance to the Wolverines while on the Columbus campus, only sporting a small 'M' sticker on his wheelchair.
Fellow students still notice.
"I get asked about the Michigan sticker on my wheelchair more than I get asked about the wheelchair," he said.
Mealer, who walked to midfield from the Michigan Stadium tunnel last week despite being paralyzed in a car accident in 2007, has an undergrad degree in economics from Ohio State.
He considered pursuing his master's degree in public affairs in Ann Arbor, where he would have been a student alongside his brother, Elliott, but the out-of-state tuition costs made it prohibitive.
"I figure if I can get two degrees from Ohio State, it might be close to Elliott's undergraduate degree," he joked.
The next Pat White?
The statistics on Denard Robinson's record-setting afternoon weren't even official yet, and the comparisons to former West Virginia quarterback Pat White had begun.
Rich Rodriguez, who coached White with the Mountaineers, thinks there's some validity to them.
"Yeah, he runs fast," Rodriguez said of Robinson. "The game may be fast for everybody else, but it's slowing down for him. The game seemed a lot slower for him today than any time last year, which we expect. And it was the same way with Pat."
Notre Dame cornerback Darrin Walls grew up in Pittsburgh and watched White often.
"Denard Robinson is looking just like Pat White when he was there," Walls said. "I see Michigan going on the same path."
Hopefully not too far down the same path, for Robinson's sake. On the same day he trampled the UConn defense for 197 rushing yards last Saturday, White was released by the Miami Dolphins.
Tweet of the week
"NBC is really pumping the Michigan-Notre Dame game this week. I guess that's what happens when NBC televises only one NCAA football team." - @dev_macd

This week's mailbag
Q: Does a loss to Notre Dame mean we are behind last year's pace? - JD.
A: Not necessarily, JD. For one, this year's game is tougher for Michigan simply because it's in South Bend. Plus, both teams have gotten better. I think a better measuring stick for Michigan would be how the Wolverines perform against some of the middle-of-the-pack Big Ten teams that they lost to in 2009.
Q: Why should Michigan fans be more optimistic about this year, considering the striking similarities between the start of last year and the first game of this year, i.e. creeping towards the top 25, quarterback on the 'Heisman watch,' big home win to start the season. - Matt.
A: There's no comparison between UConn and Western Michigan, Matt. But you want one reason to be more optimistic? Michigan's offensive line is markedly improved this year. It's gone from a weakness to a strength, perhaps the best position on the team.
Pete Bigelow can be reached at (734) 623-2556, via email at petebigelow@annarbor.com and on Twitter @PeterCBigelow.