Posted on
Sun, Feb 21, 2010 : 9:56 p.m.
Michigan football coach Rich Rodriguez at Victors' Rally: 'I'm a Michigan man'
By Dave Birkett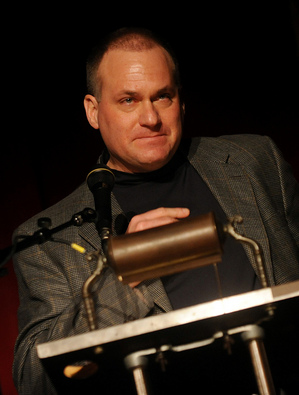 Michigan football coach
Rich Rodriguez
answered one of the biggest knocks against him during a pep rally Sunday at the Michigan Theater, telling more than 700 supporters, "I'm a Michigan man."

Rodriguez spoke at the end of the Victors' Rally, an assembly designed to support him and the program after two consecutive losing seasons.
"I asked earlier … what is a Michigan man?" Rodriguez said. "I've heard that a lot, 'I'm not from Michigan.' How do I become a Michigan man? And nobody's really given me the definition other than if you work hard and you're passionate, you give everything you got to the cause, which is having the best football program in America, to developing young men so they represent you the right way on and off the field and you're a good guy and you have good guys around you and you believe in the university and it's ideals, then you can be a Michigan man.
"Well, I think I'm a Michigan man."
Former Michigan coaches Gary Moeller and Jerry Hanlon, radio announcers Jim Brandstatter and Frank Beckman, and ex-Wolverines Larry Foote and Brandon Graham also gave speeches Sunday. Former Michigan quarterback Rick Leach hosted the event, which was put on by National HR Solutions and not sponsored by the university.
Incoming athletic director Dave Brandon attended the rally, as did most of Michigan's football staff, including assistant coaches Calvin Magee, Fred Jackson, Greg Frey, Tony Gibson and Adam Braithwaite.
Rodriguez said he's been humbled by Michigan's 8-16 record over the last two years, but insisted the adversity won't fracture the program or fan base.
"Some people, because we've had so much success over the years they maybe see an opportunity to kind of jump on us a little bit and say now's our chance to make fun of Michigan, now's our chance to pile on a little bit, and so maybe they have a little bit the last 2 years," Rodriguez said. "But revenge is sweet. And I'm not going to make any predictions but I can tell you this, I can forgive but I'll never forget, I can promise you that."
See a slideshow and video from the Victors' Rally
Dave Birkett covers University of Michigan football for AnnArbor.com. He can be reached by phone at 734-623-2552 or by e-mail at davidbirkett@annarbor.com. Follow him on Twitter @davebirkett.